Weider Prime Testosterone Support Review – Does It Work?
By:
Rob Miller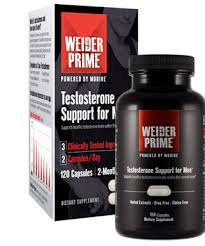 Contents
Benefits
Ingredients
How To Use
Side Effects
Reviews
Pros and Cons
Where to Buy
Conclusion
User Reviews
It's funny how when something becomes relevant to you, all of a sudden, you start seeing it and hearing about it everywhere.

The truth is, it's not really all of a sudden at all. It's been there all along.

You just weren't paying attention.
That's kind of how it is with testosterone support.

As we get older, we start noticing radio and television ads, magazine ads, and online ads, all talking about how this or that testosterone booster is the one you need.
Beyond that, there is without a doubt somewhat of what you could call a revolution in the world of testosterone treatments whether it be hormone replacement therapy, prescription medications or supplements that are widely available with the same goal in mind.
It is hard to sift through the good and the bad, especially when they all make claims that we so badly want to hear related to the many benefits that come with having low testosterone.
Supplements like Blackcore Edge, Spartagen XT, and Test x180 Ignite all make the same promises, but in many cases don't do anything.
The age isn't necessarily the same for everyone.

For some, it's 35. The lucky ones don't notice till they hit 40 or 45. But rest assured, their time will come.
Looking To

REALLY

Get Ripped?
Click Here to download my FREE "How To Get Ripped Quickly" eBook!!
At some point, your testosterone levels will dip low enough that you'll start to notice the tell tale signs:
Lack of energy and/or endurance for your workouts.
That spare tire layer of fat around your middle.
A few extra pounds that crept up out of nowhere.
Increased difficulty gaining and maintaining lean muscle mass.
Reduced strength.
Decreased ability to focus.
If these things have started happening to you, you may have noticed Weider Prime Testosterone Supportat Costco, and it may be time to check it, or something like it, out.

Weider Prime Testosterone Support Benefits
We've talked about what happens when testosterone levels start to dip.

So what can you expect if you take Weider Prime Testosterone Support along with a healthy diet and exercise program?

First off, you'll feel younger and more vital. Secondly, you'll have more energy.

Thirdly you'll be able to accomplish more and reach your goals in the gym again.

Fourthly, you'll feel more at ease.

And lastly, you'll gain back some of that libido that's left you over the years.
Quick Tip: Take our Low Testosterone quiz and see if you may be suffering from low testosterone.

Weider Prime Testosterone Support Ingredients
There are 3 ingredients considered by Weider Prime Testosterone Support to be the primary active go-to ingredients.

Each has undergone clinical testing that Weider Prime Testosterone Support proudly points to.

They are:
KSM-66.

This is a very concentrated extract of Ashwagandha with a higher potency than any other Ashwagandha on the market.

It acts as an adaptogen which means it boosts the body's ability to respond appropriately to physical and/or mental stressors.

It does this while also supporting healthy testosterone levels.
Chromax.

This derivative of Chromium Picolinate helps reduce fat and preserve lean muscle mass.

Its primary mechanism of action is that it improves your body's metabolism of carbohydrates.
Bioperine.

This form of black pepper has been clinically shown to increase the bioavailability of other ingredients within a supplement, making the supplement as a whole more effective.
Additional supporting ingredients in the formula include:
Cordyceps which has been used in Chinese medicine for centuries.

It enhances energy and improves athletic performance.
Zinc which has a positive correlation with increased testosterone within the body.

In blood tests, higher zinc levels are often present alongside higher testosterone levels.

It also supports a healthy immune system.
DIM (Diindolylmethane) which helps maintain the right balance between estrogen and testosterone.
Vitamin D3 which increases proper absorption of calcium and phosphate, leading to improved testosterone levels.
Vitamin B6 and B12 which provide all day energy without the crash, as well as antioxidants to protect cells from free radical damage.
How To Use Weider Prime Testosterone Support
The recommended dose is 2 capsules per day.

The preferred method is to take them together, but you could take them one at a time, say one in the morning and one in the afternoon, if you like.

It's also recommended that you take them with food.

This is to prevent any potential for an upset stomach.
It's also strongly recommended that if you want the absolute best results, you should work out and eat a healthy diet while taking Weider Prime Testosterone Support.

Weider Prime Testosterone Support Side Effects
All the ingredients in Weider Prime Testosterone Support are considered safe, though that's not to say there's no chance of any side effects.

Any supplement could cause the occasional headache or upset stomach for any particular user.
Who Makes Weider Prime Testosterone Support
This product is actually a marriage of two companies coming together to create one product. Mdrive built the formula, choosing each ingredient for its ability to reach the goal, while Weider Prime is the brains behind putting out the product, marketing it, and getting it sold.

Weider Prime Testosterone Support Reviews
We came across a few testimonials on the Weider Prime website, but these are hard to consider independent.

I prefer to put stock into the more independent reviews, like on Amazon.com.

But since Weider Prime Testosterone Support isn't sold there, we had to go with what we have:
Richard says: "I love this so much because it gives me more energy and endurance specially the work I do, now I don't feel tired even in a 16 hours work shift thanks to Weider Prime. "
Robert says: "Since the start of taking Weider prime I noticed a difference right away.

Not only did I feel more focused but my over all stress levels seemed to change and I found myself being much calmer during situations that normally would anger me or just send me over the edge.

I had a renewed energy that I lost a long time ago and now I feel motivated to move and do more."
Michael says: "I am 39 years old; For me, it has definitely helped with leaner muscle mass; I was already quite lean but it has improved my situation quite a bit.

Also, I have more energy when I exercise and play sports."
Weider Prime Testosterone Support Pros and Cons
Advantages of Weider Prime Testosterone Support
It's available at Costco which is a huge plus for guys who don't want to buy their supplements online.
It's fairly inexpensive.
You get a 2 month supply in one bottle.
Disadvantages of Weider Prime Testosterone Support
The formula doesn't really contain anything that boosts testosterone levels.

It dances around the subject, but doesn't really make it there.
We weren't able to find independent Weider Prime Testosterone Support reviews.
Where to Buy
You can buy Weider Prime Testosterone Support online or at Cosco. The Weider Prime Testosterone Support website sells the 2 month bottle for $59.99, and I believe the price at Costco is the same or close to the same.At $30 a month, that puts Weider Prime Testosterone Support on the low end of the testosterone booster price range.

Conclusion
I have personally tested dozens of testosterone boosting supplements, but unfortunately have not had a chance to try this one out yet. I have no problem saying Weider Prime Testosterone Support is probably safe, and it may even be a beneficial supplement.But I don't see how it calls itself a testosterone booster.

With essentially none of the traditional testosterone boosting ingredients, you'd be better off choosing something more focused on the matter at hand.

Have You Used Weider Prime Testosterone Support?

Leave Your Review Below!
Top 3 Testosterone BoostersAffiliate Disclosure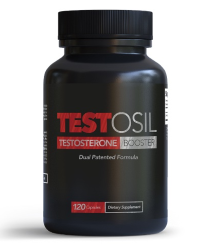 Testosil is the most effective testosterone boosting supplement on the market that I've tested.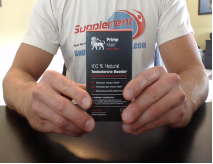 Prime Male is another very effective testosterone booster that uses clinically proven ingredients.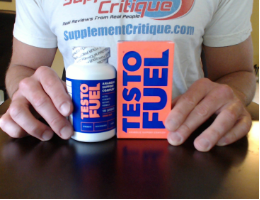 Testofuel is a VERY popular testosterone booster that contains ingredients to help older men.
User Reviews

1.9 out of 5 Stars (9 Reviews)
Have you used this supplement?
John's Review
I am a healthy and fit 50 yr old male and retired Army veteran and I took this supplement for about a week and a half and it gave me terrible headaches. Instead of giving me more energy, the headaches immobilized me. I also did not sleep well because the headaches would not go away. I put two and two together and immediately stopped taking this product. The headaches stopped. It may work for others but not for me, be careful what you put in your body.

Was this review helpful to you?
75 out of 83 people found this review helpful.
---
Did not work
By
Kevin Lee

,
Feb 8, 2016
Tried it and it did not work. Felt sluggish and no energy. Changed to a different product and noticed an immediate difference. I do not recommend this product to anyone.

Was this review helpful to you?
34 out of 41 people found this review helpful.
---
NOTFORME
By
BB's review

,
Apr 22, 2016
Gave me terrible migraine like headaches from day 1 to day 3. Nothing would relieve the pain.

Was this review helpful to you?
27 out of 28 people found this review helpful.
---
Headaches
This product gave me serious headaches. So bad, I could'nt function.

Was this review helpful to you?
18 out of 20 people found this review helpful.
---
Not for me
Started to take a had a non stop major headache. So put 2 and 2 together and stopped taking for a week and was better. Took again and same thing so not taking anymore. Not for me.

Was this review helpful to you?
17 out of 18 people found this review helpful.
---
Check Out My Top Choice For T Boosters - Testofuel

Click Here To Read My Review
Ask A Question
User Questions and Answers
---

I am 78....well it work for me?...and is it a sexual booster? -don

Testosterone boosters work well for older guys like yourself whose testosterone levels have dropped quite a bit.  I wouldn't recommend this one though. Check out Prime Male instead.- Rob
Was this question helpful to you?
7 out of 7 people found this question helpful.
ASK A NEW QUESTION
---

I have heart problems I am 55 years -Sami

With you condition, you should check with you doctor before taking any supplement. Your doctor will know what kinds of interactions may or may not occur.- Rob
Was this question helpful to you?
7 out of 8 people found this question helpful.
ASK A NEW QUESTION
---

I was take 2 capsules every morning for one week, feel good but i am star with strong headaches under nigts and can sleep good.would I stop with WP H Testosterone support? -Sergio Ortuno

Try stopping the pills, and see if the headaches go away.- Rob
Was this question helpful to you?
4 out of 5 people found this question helpful.
ASK A NEW QUESTION
---

If you have high Cholesteryl and high blood pressure.. -Rene

Whenever you have one or more medical conditions, you should check with your doctor before starting any new supplement. They'll know if it causes any negative interactions with your medications.- Rob
Was this question helpful to you?
3 out of 3 people found this question helpful.
ASK A NEW QUESTION
---

Husband had prostate removed. Will Wider Prime help night sweats. I had a hysterectomy at age 30 and took estrogen, but now take estroven at Costco over the counter supplement for energy and night sweats with success. He is getting testosterone pellets implanted and at 75 years old I would like to find something for him for bone density (testosterone replacement). -Richard Megill

That's a very difficult question for me to answer, and to be honest I'm not really sure.  I'd recommend you check with your doctor to see what his options are.- Rob
Was this question helpful to you?
3 out of 3 people found this question helpful.
ASK A NEW QUESTION
---

Which is the best testosterone supplement -Richard

My top pick is Testofuel. You can check out my full review here:  Testofuel Review- Rob
Was this question helpful to you?
1 out of 1 people found this question helpful.
ASK A NEW QUESTION
---

Can women take this? -Kendal

Natural testosterone boosters like this are fine for women to take.- Rob
Was this question helpful to you?
2 out of 3 people found this question helpful.
ASK A NEW QUESTION
---

Does it effect the liver? -Sam

It's a natural supplement so it doesn't affect the liver like synthetic testosterone does, but if you have concerns, you should check in with your doctor.- Rob
Was this question helpful to you?

ASK A NEW QUESTION
---

Hi, I have a question, will do second effects that can cause danger in the blood or the body -Orlando

As long as you're healthy, you shouldn't experience any side effects. If you have any medical conditions or take any medication, check with your doctor before taking this or any supplement.- Rob
Was this question helpful to you?

ASK A NEW QUESTION
---

How many pills for one time one or two? -Ibrahim

The recommended dose is 2 pills per day, every day.- Rob
Was this question helpful to you?

ASK A NEW QUESTION