Zantrex Black Review – The Best Zantrex Yet?
By:
Rob Miller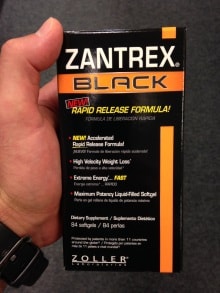 Contents
Overview
Ingredients
Reviews
Side Effects
Pros and Cons
Where to Buy
Conclusion
User Reviews
Zantrex Black Overview
Zantrex is a very popular, yet controversial weight loss supplement made by Zoller Labs.
First there was the original Zantrex 3 in the red bottle, which we've actually tested.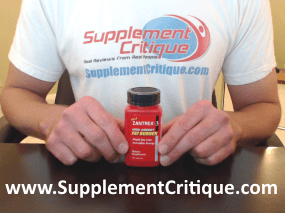 The side effects of the red bottle were just too much for some, and here's just a sample of some of them that were left on our site back in 2015.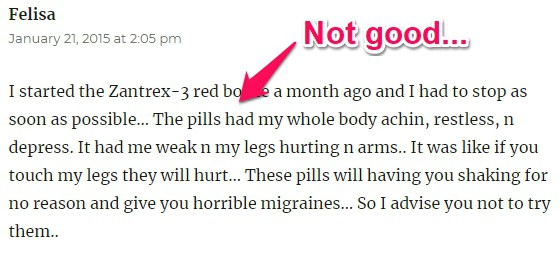 Then there was Zantrex 3 Blue which was the company's answer to complaints of side effects caused by original.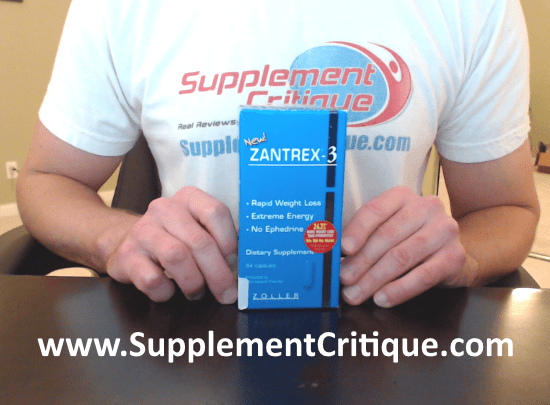 The blue bottle is a GREAT fat burner, and is actually one of the best fat burners for women we've ever tested.
Now there's Zantrex Black, the Accelerated Rapid Release Formula.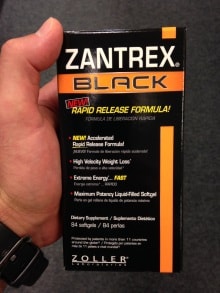 All three of the products in the line have the same stated goals, which are to:
Burn fat
Decrease appetite
Give you energy
Help you lose weight
But they each approach it in a different way.

We've reviewed Red and Blue in the past.We've even compared them.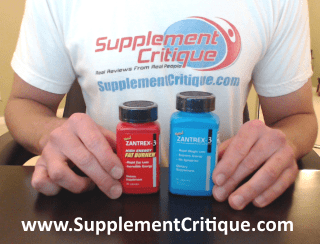 So this time, we're primarily dealing with Zantrex Black.
Want To

REALLY

Lose Weight?
Click Here to sign up for my free "How To Lose Weight Quickly And Effectively" eBook.
Zantrex Black, as stated above, is the option for people who want a fast acting weight loss supplement that they can use in conjunction with any sensible weight loss product.

The focus is on the quickness of both the initial energy boost, and the weight loss.

So if you're looking for instant gratification, Zantrex Black is the one to choose.

Zantrex Black Ingredients and How They Work
Of course, the most important factor in whether or not a supplement works is the formula, so let's get right to it.
Here's a quick look at the label: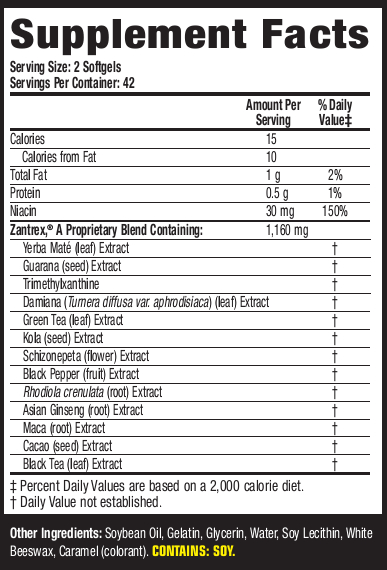 TheZantrex Blackformula includes:
Niacinwhich increases blood flow.

It's actually known to sometimes cause a warm "niacin fliush" where your skin gets a little red and tingly from the blood rushing through the blood vessels.
Protein: I'm not even sure why they included this as an ingredient in Zantrex Black, mainly because it only contains 0.5 grams. This dose is nowhere close to making any sort of reasonable difference.
The Zantrex Black Proprietary Blend which provides several sources of caffeine including:
Green Tea which also provides fat burning, antioxidant ECGCs which have been shown to burn fat.
Guarana Seed Extract: Commonly found in many other fat burners like Slim Trim and 1 M.R., Guarana is basically a stimulant that contains chemicals similar to caffeine.

Yerba Mate Leaf Extract: Another stimulant which is actually rich in antioxidants due to its high concentration of polyphenols.

Black Tea Leaf Extract
Kola Seed Extract
Trimethylxanthine (which is the chemical name for pure caffeine).
And other ingredients including:
Maca Root Extractwhich increases the release of dopamine from the brain.

This improves mood and motivation to curb emotional eating.
Asian Ginseng Root which also improves blood flow to supply more nutrients and oxygen to your muscles while working out.
Damiana Leaf Extract which elevates mood and suppresses appetite.

It may also inhibit the conversion of testosterone to estrogen.
Schizonepeta Flower Extract which is commonly used for colds and sore throats, but doesn't seem to have a connection with weight loss that I've been able to find.
Black Pepperwhich helps increase thermogenic activity in the body.
Rhodiola Crenulata Root Extract which relieves anxiety and helps burn fat.
Cacao Seed Extract which can reduce the production of fat cells.
Clearly, the formula is very caffeine heavy, but because it's all couched within a proprietary blend, we don't know any real numbers or actual amounts.
The whole blend totals 1,160 mg, and about half the ingredients are basically caffeine, but since they don't reveal the amounts, we don't know how much caffeine they're putting in Zantrex Black.
Given that this is a Zantrex product, famous for being pretty speedy, my guess is it's a lot.
How To Take Zantrex Black
The recommended dose is 2 softgels taken about 15 minutes before main meals.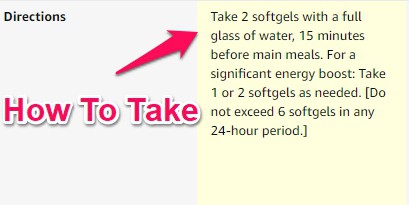 You can take 1 or 2 as needed for energy, but it is not recommended that you take more than 6 in one day.
There is also a recommendation that you avoid additional caffeine when taking Zantrex Black.

I would also add another caution against taking Zantrex Blacktoo close to bedtime.

I would imagine it would interfere with a good night's sleep.

Zantrex Black Reviews
Next to the formula, which we now know is extremely stimulant-heavy, the second most important factor in determining whether or not Zantrex Black is any good is what kind of feedback it gets from actual customers.
We've actually had about 40 people leave reviews of Zantrex Black on our site.
On the one had you have the positive experiences, like this one: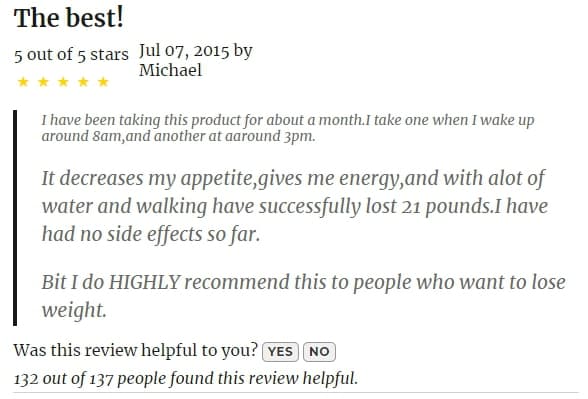 And this one: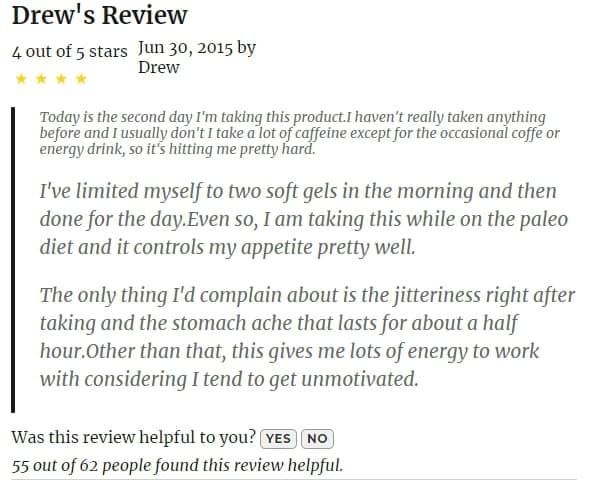 And on the other hand, you have the NEGATIVE experiences that some have encountered: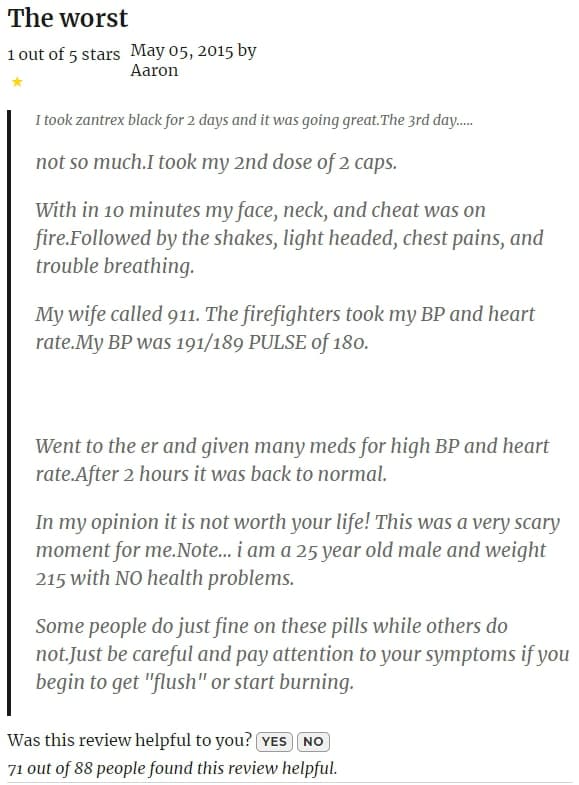 And this one: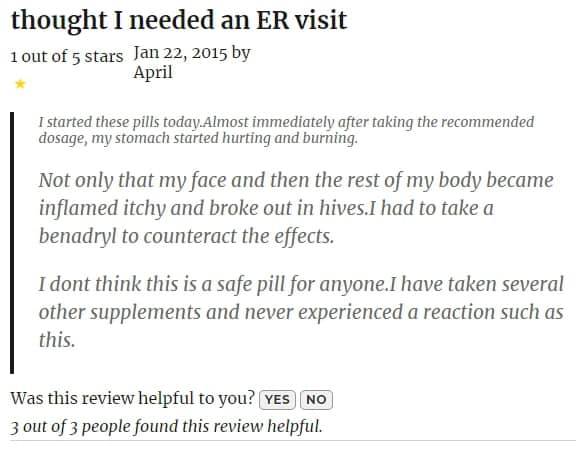 The positive Zantrex Black reviews outweigh the negative ones at about a 10:1 ratio, but I mean come on…
We're not talking about people just saying things like:
It didn't work for me
I didn't feel any effects
Doesn't work
Instead we're seeing things about blood pressure skyrocketing and near death experiences.
Since Zantrex Black is sold at Amazon.com, there are dozens of reviews to look at, and the opinions are widely varied when compared to the reviews on our site.
There are almost as many 1-star reviews as there are 5-star ones.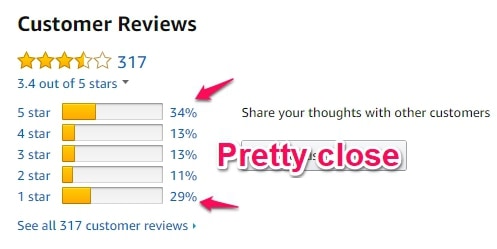 First here are a couple of the raves, all from verified purchases: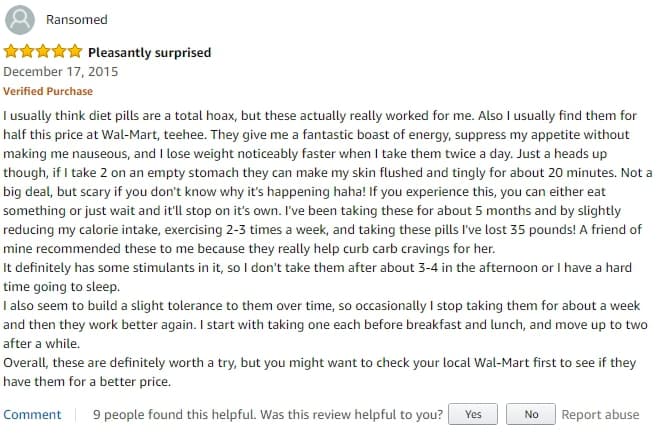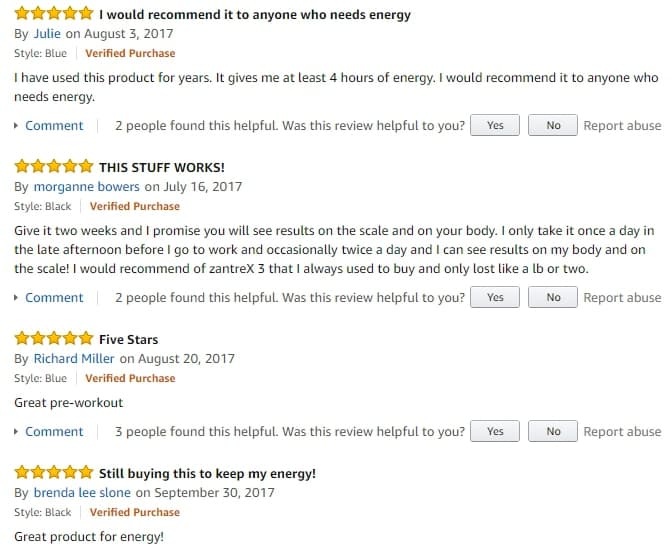 And here's some of the feedback from unhappy customers: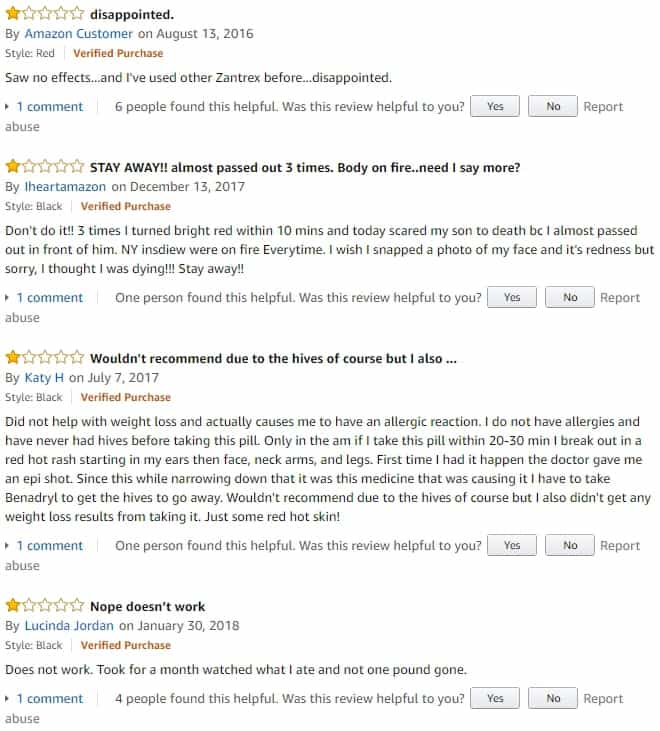 As mentioned earlier, we actually have about40 customer reviews posted below, and the vast majority reflect those on Amazon.
Something important to make note of in the reviews is that even people that like Zantrex Black mention the side effects.

It's mainly a matter of degree of tolerability that determines whether or not the reviews are good or bad.

There seems to be little question that Zantrex Black can increase your energy, and that's the primary benefit users talk about.

But for some, the side effects are too much.

Zantrex Black Side Effects
There's a lot of caffeine in Zantrex Black, so anyone who's sensitive to the stuff should beware.

If you want to avoid jitters, a racing heartbeat, and sleeplessness, you may want to start out with just one pill at first.

That way, any side effects you do face will be mild and hopefully won't last as long.

You'll also want to stay away from additional sources of caffeine, such as coffee and soda.
The other common side effect is known as "The Niacin Flush", which we talked about earlier.
The Zantrex Black formula has 30 mg, which is 150% of the daily recommended amount.
This much niacin often makes your skin red and makes you feel like your skin is burning up.

The feeling should only last a few minutes, but it can be very unpleasant, and even a little scary for some people.

Some users expect it, and just let it happen, knowing it will pass. For others, it's too uncomfortable and turns them away from the product altogether.

Zantrex Black Pros and Cons
Advantages of Zantrex Black
It's affordable.
Just about every

Zantrex Black

review from a customer that I've seen says it works as a great appetite suppressant.

Most people say it practically eliminates their appetites.
Disadvantages of Zantrex Black
It's got a boatload of caffeine, though we don't know exactly how much because each of its caffeine sources are included in the proprietary blend that doesn't offer amounts.
Lots of people get side effects like stomach aches, headaches, and dizziness.
You need to eliminate other sources of caffeine while you're taking it.
Zantrex Black Compared With Zantrex Red and Zantrex Blue
Almost nobody questions whether or not each of these products woks for energy and appetite suppression. They all work. So we move on to side effects.

People who are sensitive to stimulants will have about an equal (and not pleasant) reaction to the Red and the Black. And they both work very well.

Zantrex Blue works as well, but seems to come with fewer problems.

Where to Buy
You can buy Zantrex Black in stores like Walmart, Target, and CVS or online directly through the product site or through sites like Amazon.com.

A bottle of 84 softgels sells for about $25 or less depending on where you go.
This is pretty low compared to similar products, but if that deters you, it shouldn't necessarily because it is pretty effective in the short term.
Prices don't vary too much so where you choose will come down to a matter of convenience.

Conclusion
Zantrex Black works.But anyone who doesn't react well to caffeine or isn't fond of the jittery feeling that certain stimulants cause will not feel good takingZantrex Black.

Even for people who don't mind the feeling, I would recommend you treat Zantrex Black as a short term supplement to boost your efforts or push you through a stubborn plateau.
It's not the kind of supplement you want to be taking month after month.

The heavy stimulant effects will probably keep you from wanting to take it month after month anyway, that is.
And if you do decide to try it, do so with caution.

Start with just one pill so you can experience any side effects more mildly. Be prepared for the Niacin Flush.

Drink a good amount of water and wait it out.

It shouldn't be long, then you'll be left with the energy and appetite suppression you're looking for.

Have You Used Zantrex Black?

Leave Your Review Below
Top 3 Fat BurnersAffiliate Disclosure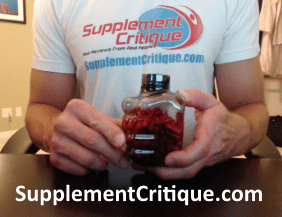 Instant Knockout is actually a new fat burning supplement I just came across, and got great results.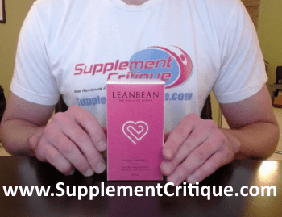 LeanBean Female Fat Burner is the BEST fat burner for women we\'ve ever tested.

Read our review here.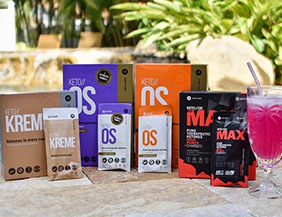 Biohacks your body into instant ketosis to burn fat instead of carbs.

Weight loss, energy, focus, anti-inflammatory, anti-aging.
4 Star User Reviews

3.4 out of 5 Stars (42 Reviews)
Have you used this supplement?
WORKS!!
By
Christina

,
Dec 2, 2014
I have taken Zantrex Black for 3 days and have seen a significant change! I did have the Niacin Flush the first day but it didn't bother me. I probably would only use this to get over a plateau and not all the time due to the caffiene. Worked amazing for right after Thanksgiving!

Was this review helpful to you?
52 out of 56 people found this review helpful.
---
Drew's Review
Today is the second day I'm taking this product. I haven't really taken anything before and I usually don't I take a lot of caffeine except for the occasional coffe or energy drink, so it's hitting me pretty hard. I've limited myself to two soft gels in the morning and then done for the day. Even so, I am taking this while on the paleo diet and it controls my appetite pretty well. The only thing I'd complain about is the jitteriness right after taking and the stomach ache that lasts for about a half hour. Other than that, this gives me lots of energy to work with considering I tend to get unmotivated.

Was this review helpful to you?
55 out of 62 people found this review helpful.
---
First day but love it
I took one pill in the morning knowing I'm somewhat caffeine sensitive. I drank 16 oz of water before I took it and 16 oz after and I had 0 side effects but a GREAT energy boost. I'm over weight and I'm doing a complete life style change. Today I ran 1/2 mile nature trail which is unheard of for me. About 5 hours later I took another pill and I still feel a good energy level (even had a water gun fight with my 4 year old after school) I'm not looking to "lose weight" I'm looking to become healthy and I REALLY believe these will help me achieve that.

Was this review helpful to you?
9 out of 10 people found this review helpful.
---
Fantastic!
I have been taking it steadily for about 2 weeks now. 2 at 7 am, 2 at 1 pm and 2 at 7 pm with my dinner (I eat once a day). I have dropped from a 44 waist to a 40! Only side effect I've had are headaches in the morning but they're bearable. Would definitely recommend

Was this review helpful to you?
10 out of 12 people found this review helpful.
---
Chance's Review
I'v bee taking this pill on and off for months and if you get on a certain routine while taking it stick to it. But in all reality this pill does work if you take it right. Drink water and eat. This pill with the access of caffeine it does build up a ton of energy but for wrestler its a good product, it helps control your food intake and helps you burn off those few extra pounds to make it on weight. So over all its safe if you do it right.

Was this review helpful to you?
5 out of 5 people found this review helpful.
---
Zantrex review
By
Natasha Smith

,
Sep 3, 2016
I tried Zantrex Black. I had no jitters, no nervousness. I did have the "niacin flush" but it was fine. I actually liked the sensation, it made me feel alive. I started with one 15mins. before my 3 meals for a couple a days, then I went to two 15mins. before meals. I'm doing great so far. I will send another review after a month on the Zantrex Black.

Was this review helpful to you?
5 out of 5 people found this review helpful.
---
Gloria's Review
Day 1 : I took my first two gel caps 15 min. Before lunch ! I am a teacher, and after school, I work at a day care ! I felt like I had more energy, my mood was calmer, more fun ! The day went by smooth and easy !
I have taken Adipex in the past, and so far this seems to have the same effects ! I am looking forward to getting up tomorrow, and trying it again !
My mind seemed more alert, my energy was better than usual !

Was this review helpful to you?
3 out of 3 people found this review helpful.
---
So far so good
Hi everyone. I started taking the black pills last week. Not only is my energy up but I've already went from 235lbs to 224lbs. At first I did get nausea but realized I didn't eat.... It's funny because now I crave water. I drink like 4 16oz bottles within 3hrs of taking it which of course makes me run to the rest room every 30mins. Put my urine is clean.... Clear which means my system is flushed....which is a good thing. I'm so looking forward in seeing where I am in a month.

Was this review helpful to you?
3 out of 3 people found this review helpful.
---
Don't Drink Caffeine
I've taken Zantrex Black for a full week now and all I can say is, don't take any other caffeine while on it, coffee, soda, nothing. First day I had really bad reaction to it, stomach ache, rapid heart rate, flushing skin, once I stopped drinking coffee and any other forms of caffeine I was fine. Does the product work? Idk, it curbs my appetite but its hard to tell if I'm losing weight. Its like all the other products out there, there isn't a miracle pill that gives you ripped abs without any effort. Any of us that are serious about working out and take diet and weight supplements know there's side effects and you just have to decide if there worth the results.

Was this review helpful to you?
4 out of 5 people found this review helpful.
---
Lower dose
Day 1 was great, but Day 2, I had the Mother of all Hot Flashes, about 20 min. After I took two pills ! My coworker wanted to call the school nurse or 911 ! My face was beet red, felt like I was on fire ! Tomorrow, I will take one in the morning, and one before lunch !

Was this review helpful to you?
2 out of 3 people found this review helpful.
---
Just starting
Ive been taking this for a week now, the very first day I experienced the red itchy burning body rash which scared me but I thought it was due to me having alot of caffeine before the pills. I take 2 at once 1 time a day with alot of water and small meal. Gives me a little energy, Im used to high caffeine. I feel fine the rest of the week hoping to see some results. Slightly lowers appetite.

Was this review helpful to you?
1 out of 1 people found this review helpful.
---
Thumbs up
I started taking Zantrex 3 Black four days ago, and already lost 3 pounds. I watch what I eat and drink plenty of water. Where I work, I need an extra kick of energy to help me last through the day. I cut down on my caffeine intake so I don't have to worry about the jitters. I kept taking just one pill a day for right now. Yesterday, I tried taking 2 pills before lunch time and got the 'Niacin Flush' and didn't like it. I drank a lot of water, and this finally went away after 20 minutes or so. I like the idea I am losing weight, and will continue to take the pill. I will just be taking one pill a day.

Was this review helpful to you?

---
Ask A Question
User Questions and Answers
---

i took the first dose of Zantrex black which is 2 pills 15min before breakfast. I experienced the flushing, but that went away. Now I'm feeling terrible nausea. When will that feeling stop? And what should I do about it? Please help. -Ashley

Zantrex pills are very strong.  Try taking one pill at a time instead of two, and make sure you drink plenty of water. If you still feel nauseous, you should discontinue use.- Rob
Was this question helpful to you?
14 out of 16 people found this question helpful.
ASK A NEW QUESTION
---

What stores sell Zantrex Black? -Jennifer

You can find this supplement on the shelves of many brick and mortar stores like GNC, Walgreens, Walmart, and many others.- Rob
Was this question helpful to you?
10 out of 13 people found this question helpful.
ASK A NEW QUESTION
---

I am celiac, is zantrex black gluten free? -ben

All of the ingredients within Zantrex Black are gluten free; however the manufacturer does not claim to be a gluten free facility.- Rob
Was this question helpful to you?
8 out of 12 people found this question helpful.
ASK A NEW QUESTION
---

HAY YO BLOKES I TOOK 2 PILS MYSKIN FELLS LIKE FIRE BURING UP THEN IT STOPS BURING I PUT MY AC ON DRINK 1.74L.OF WATER IS OKAY OR SHOULD I JUST TAKE 1 TABLET ? 59 OZ. OF WATER DRINKG 2.63L. 89.OZ OF WATERA DAY -Sir.Quala

Cut your dose in half, take it with a meal, and make sure you continue to drink plenty of water.  If that doesn't change things, you may have to switch to something with fewer stimulants.- Rob
Was this question helpful to you?
6 out of 8 people found this question helpful.
ASK A NEW QUESTION
---

I made the mistakYe of taking 2 around noon then another 2 at 6pm. It's now the next morning and I feel like I'm tripping out. My pupils are super small, I'm dizzy, nauseous, spacey, almost a hangover/very drunk like feeling making even water difficult to swallow without it trying to come back up. I slept almost not at all and had the worst heartburn last night. I've had niacin before and most all of these other ingredients. When does this drugged sick feeling go away? I only took 1 this morning thinking it might help balance what I'm feeling. -Jennifer

When you're feeling like this, discontinue use, drink plenty of water (as much as you can) and get as much rest as you can. Once you're feeling better, after a couple days, try just one pill and see how you handle it. If that works for you, stick with the one pill at a time. If not, I don't know what ingredient is causing it, but I'd say Zantrex Black isn't for you.- Rob
Was this question helpful to you?
1 out of 1 people found this question helpful.
ASK A NEW QUESTION