Reviewed By:
Rob Miller
3.5 OUT OF 5.0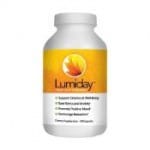 Update! 6/26/2012

– My Video Review Including Results Posted Below

There is no question that men and women across the US suffer from mood problems, often characterized as depression.  One day you may feel great, the next your in a depressed funk.  Lumiday promises to change all that with their natural mood enhancement formula.  We came across this top rated mood support formula on the market, and wanted to learn as much as we could for our visitors.  Through this review, you will learn about the ingredients, potential side effects, cost, free trial, and other pertinent information about this product.
What is Lumiday?
Acting as a stress reliever, Lumiday is an all natural remedy for anxiety designed to ease the effects of stress, give you complete emotional support, and improve your overall mood.  It is manufactured by the same company that makes Instaflex, a joint support product, and it is is relatively new to the market.
What Are The Ingredients in Lumiday?
Lumiday is made up of a number of all natural herbs and extracts designed to help improve your mood dramatically.  The full ingredient list includes a wide array of Vitamin B derivatives including, B1, B3, B6, B9, and B12.  These vitamins are used to help increase your energy levels, as well as metabolism.
Lumiday also contains several other major ingredients, including St. Johns Wort, Theanine, Rhodiola Rosea, ashwagandha root, and 5-htp.  It is interesting to note that 5 HTP mood enhancer is used in several dietary supplements, as well as treatment for depression.
Are There Any Side Effects From Lumiday?
While we cannot determine whether Lumiday itself has any potential side effects, some of the ingredients contained in the product do cause mild side effects.  Vitamin B1, for instance, can cause mild symptoms, such as a feeling of warmth, itching or hives, weakness, sweating, nausea, and restlessness.  This is not to say that there is sufficient quantities of B1 in Lumiday to cause these effects, but the potential is there.
What About The Lumiday Free Trial?
There has been several complaints on numerous third party sites about the free trial practices of Lumiday.  When you order the free trial, you have 14 days to try it out "risk free".  It's actually 18 days from the date of order, because the company allows a 4 day grace period for shipping and transition.  However, at the end of your 18 day trial, you are automatically enrolled in their Monthy Autoshipment, where they will charge you $75 every month to receive their product.
This business model is somewhat controversial, with manufacturers arguing that if the customer likes the product, it will make it easier for them to simply receive the product automatically.  The gray area lies in the fact that many customers don't realize they will be charged at the end of their trial, they think they are just receiving a sample of Lumiday.  While the billing procedure may seem like a scam, it does not indicate whether or not the supplement works.
My Personal Video Review
Reviews of Lumiday
In general, the Lumiday reviews that we found were very positive.  Most of the testimonials reported enhanced mood, and a decrease in depression and anxiety.  Some users reported that the product worked great, but the price was too high.  We have ordered a trial package of Lumiday and should be posting a follow up review within a couple of weeks.
How People Found This Review:
and Lumiday reviews, and lumiday side effects, and lumiday review, and lumiday scam, and what is Lumiday, and side effects of lumidayGoogle+