Red PCT 2.0 Review
By:
Rob Miller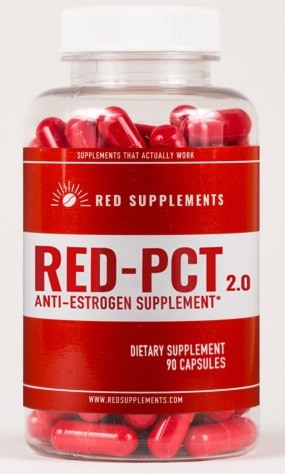 ---
What is Red PCT 2.0?
Developed and marketed by a company called Red Supplements, Red PCT 2.0 is the follow up formula to the original Red PCT.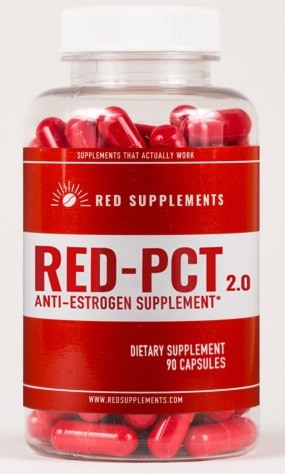 It's primary use is as an anti-estrogen supplement, and it may help control estrogen levels and boost testosterone levels in healthy males.
For those of you who didn't see my Red PCT review, click here to check it out.
Basically, I loved the original Red PCT and it delivered on its promises in a way that not all similar supplements for men wind up doing.
It's legit one of the best all natural testosterone boosters I've ever tested, and that means a lot coming from a guy who's tested dozens of them.
Before we dive in to exactly what Red PCT 2.0 does, let's first discuss exactly what a PCT is used for.
What Is A PCT?
PCT stands for Post Cycle Therapy, which is a way of restoring hormonal imbalances that occur after steroid use.
PCT's are generally taken in 2 different forms:
Drugs: While traditionally used to treat infertility in women, medications like Clomid have found their use as a PCT for quite some time.
Supplements: A new breed of supplements has popped up in the last few years, promising to have similar effects to PCT drugs.
Red PCT 2.0 neatly falls into the second category.
We have personally researched several PCT based compounds, including Arimistane, Forma Stanzol, and Novaplex.
Each of them work to varying degrees of effectiveness, but Arimistane is quite possibly the only proven post cycle therapy that truly can work.
PCTs work by inhibiting an enzyme called Aromatase, which is responsible for converting androgen to estrogen.
By suppressing this enzyme, in theory your testosterone levels should increase fairly dramatically.
What's The Difference Between The Original Red PCT and Red PCT 2.0?
The original Red PCT formula contained a healthy amount of Arimistane, which was divided up into 3-1 capsule doses throughout the day.
It also contained ingredients like N-Acetyl L-Cysteine and Chlorophytum Borivilianum, both of which are claimed to be potent testosterone boosters.
I reached out to Red Supplements to ask them why they removed the original version from the shelves, but have yet to receive a response.
Since Arimistane is in a little bit of legal-limbo at the moment, I'm guessing they did this for legal purposes.
The "new and improved" Red PCT 2.0 formula contains all natural ingredients that are supposed to mimic the testosterone-boosting effects of the original formula.
The full ingredients list includes the following:
Diindolymethane
Luteolin
Acacetin
Grape seed extract
Resveratrol
Agaricus Bisporous
Apigenin
Bioperine
Here's a snapshot of the Red PCT 2.0 label: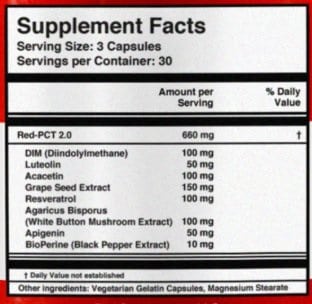 Now that you know what the formula is, let's talk about each one of these ingredients individually to give you a better sense of what you can expect.
Diindolymethane
Sometimes referred to DIM for short, this compound is a natural substance that is generated by the body after cruciferous vegetable consumption.
Those vegetables include things like:
Broccoli
Kale
Cabbage
Cauliflower
Brussel Sprouts
Radishes
According to Verywellhealth.com, DIM is reported to "produce changes in estrogen metabolism".
It also has numerous other claimed benefits, and has been researched in it's therapeutic potential of:
Luteolin
Another one of the key ingredients in Red PCT 2.0 is Luteolin, a naturally occurring flavinoid that has potential anti-oxidant and anti-inflammatory properties. (Source)
According to the manufacturer,Luteolin has recently been "studied for its ability to inhibit estrogen biosynthesis by decreasing aromatase expression and destabilizing aromatase protein".
In that study, which was conducted in 2012, it was recommended that Luteolin undertake additional investigation to prove these claims.
Unfortunately we were unable to identify any more recent studies involving Luteolin.
Resveratrol
This particular ingredient can be found in a wide array of supplements, including anti-aging supplements like Mitoboost, testosterone boosters like Test Freak, and even joint-relieving supplements like Instaflex Advanced.
According to WebMD, Resveratrol is part of a group of compounds call polyphenols.
Polyphenols are essentially micro nutrients that we get from plant-based foods like strawberries, blackberries, apples, and beans.
Some of the claimed benefits include things like:
One study, which was published in 1997, showed that Resveratrol is an agonist for the estrogen receptor.
Acacetin
Acacetin is another flavanoid with anti-inflammatory properties.
Otherwise known as Chrysin, Acacetin has found it's use in bodybuilding as a effective inhibitor of aromotase.
Again, the theory is that inhibiting aromotase, it can be effectively used to reduce estrogen levels and boost testosterone.
According to WebMD, Chrysin has numerous benefits, including:
Treating anxiety
Gout
Erectile dysfunction
Baldness
Cancer prevention
Grape seed extract
If it wasn't obvious from the name, grape seed extract is exactly what it sounds like…the extract from grape seeds.
It's specifically derived from the ground up seeds of red wine grapes, and is used to treat a number of diseases. (Source)
With that said, there hasn't been a lot of evidence supporting the claim it's an effective estrogen inhibitor.
For example, one recent study involving 39 postmenopausal women concluded that there was no effect on plasma estrogens or precursors of androgens.
With that said, one study published in 2006 did show some promise in patients undergoing breast cancer treatment.
The end result is that further research is necessary.
Agaricus Bisporus Extract
Sometimes consumed as a food or tea,Agaricus Bisporus Extract is a fungus that originates from Brazil. (Source)
It's used in Red PCT 2.0 as a possible natural aromatase inhibitor, and several studies have supported this claim. (Study 1, 2)
Apigenin
A potent inhibitor of the enzyme CYP2C9, Apigen is a flavone that has numerous health benefits, including:
A reduction in anxiety
Anti-inflammatory effects
Anti-bacterial and antiviral activities
Bioperine
Bioperine is used in numerous other supplements we've personally tested, including MaxGenics and Zyalix.
It's actually one of the only ingredients in Red PCT 2.0 that has no effect as an aromotase inhibitor, and is simply included in the formula for it's supposed "bioenhancing" qualities.
It's a branded extract of black pepper, making up about 95% piperine.
Is Red PCT 2.0 Safe?
While the official website claims that there are no side effects with Red PCT 2.0, some of the research suggests otherwise.
For example, Livestrong.com lists the following potential side effects with Diindolymethane:
Darkening of the urine
Increased bowel frequency
Headaches
Gas
Nausea
Diarrhea
Additionally, supplements containing Resveratrol may interact with blood thinners like Coumadin, as well as otc pain medications like aspirin and ibuprofen.
Click Here for a full list of potential drug interactions with Resveratrol.
Does this mean that Red PCT 2.0 will cause adverse effects?
Not in the least.
But just like with any other supplement, you should always use caution and consult with your physician first.
How To Use Red PCT 2.0
Just like with the original formula, this supplement is designed to be take 3 times a day.
It quite simply breaks down like this:
Morning: One capsule
Afternoon: One capsule
Evening: One capsule
The manufacturer states that you can take with or without food, but I can tell you from experience that supplements like this seem to work better on an empty stomach.
Unlike with the original formula, you can take Red PCT 2.0 longer than 4 weeks.
In fact, the suggested time-frame states that you can take it for 8 – 12 weeks at a time before cycling off.
Red Supplements recommends that you run a full cycle of Red Growth for 4 full weeks first, and then take their PCT 2.0 formula.
What do the Red PCT 2.0 Reviews Say?
So far, there hasn't been any reliable feedback on this supplement published. I attribute that to the fact that it was literally just released less than 2 weeks ago.
As reviews start to come in, we will update the review to reflect what consumers are saying about it.
My Personal Results
I have a bottle of Red PCT 2.0 on the way, and will begin testing it shortly.
Check back for updates.
Where To Buy Red PCT 2.0
The only place you can find Red PCT 2.0 for sale is on their official website, www.redsupplements.com.
It retails at $49.99, and they routinely offer discounts and special offers.
Interestingly enough, it's a bit difficult to find Red PCT 2.0 as a stand alone product.
If you search their site, you'll initially think that you'rerequired to buy both the PCT formula and their Red Growth supplement, at a total price of $99.99.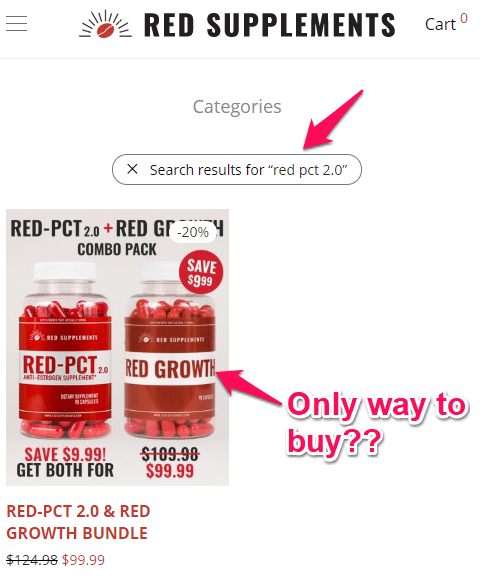 Red Supplements recommends that you run a full cycle of Red Growth, and then follow up with a cycle of Red PCT 2.
We talked about exactly how to take it above.
Recommendation
I've taken several of the Red Supplements line of products, and can state with complete confidence that Red PCT 2.0 is likely a winner.
It has a solid lineup of ingredients, a fair price, and has the potential to be a game changer in the world of testosterone boosters.
Its benefits to several aspects of male health in general as well as boosted athleticism and performance potential, Red PCT 2.0 carries several benefits that make it worth trying out.
Do I think it will work better than the original?
I'm a bit torn on that…
Arimistane is a powerful supplement, and I'm not sure if DIM and some of the other ingredients can essentially "replicate" those kinds of results.
The only way I'll now for sure is by personally testing it, which I plan on doing shortly.
Have You Used Red PCT 2 Leave Your Review Below!
1 Star User Reviews

1.0 out of 5 Stars (1 Reviews)
Have you used this supplement?
Red PCT
By
Dan

,
Jan 31, 2019


In Short:

I would recommend this to a friend.
I have use red PCT and I will say that it does work I took it after using the red growth and it help me to continue to gain strength and good pumps during my workouts it also helps your sex drive.

Was this review helpful to you?
1 out of 5 people found this review helpful.
---
Ask A Question
User Questions and Answers
No Questions Have Been Answered For This Article.