Testosteroxn Real Review and Results
By:
Rob Miller
Note: This is just a review. Click Here to visit the official Testosteroxn website.
We all know by now that testosterone plays a crucial role in everything from muscle mass / size to libido, and there's certainly no shortage of supplements out there promising to increase your testosterone levels by X amount. We know because we've personally tested dozens of them. But can a supplement REALLY boost your testosterone levels enough to make a difference?
One supplement I got a chance to personally test out recently is called Testosteroxn, which is made by a company called Crazy Mass. They promise that it can and WILL promote huge muscle gains, increase sex drive, lower stress, and increase strength, stamina, and recovery. But does it really work?
Read more in my official review below. Click Here to skip ahead to my results.
What is Testosteroxn?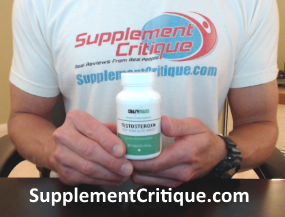 As implied by the name, Testosteroxn is an all natural supplement that is designed to help boost your bodies all natural testosterone production. It does this through the use of effective ingredients, with the primary one being DHEA. For those of you who are unaware, DHEA is a hormone produced by your body's adrenal glands, and acts as a precursor to testosterone both in men AND women. (Source: 1)
With regular DHEA supplementation, studies have shown increases in testosterone which has led to increased bone density, energy levels, weight loss, and improved libido.The REAL benefits from Testosterone Max come from the combination of DHEA and the other ingredients in their formula, including: Alpha Lipoic Acid, L-Carnitine, Tribulus Terrestris Extract, and Vitamin E.
I'm not going to go into a detailed explanation of what each ingredient is supposed to do, however, I will touch briefly on each one:
Alpha Lipoic Acid – This vitamin like chemical is essentially any antioxidant. It's been shown to prevent certain kinds of cell damage in the body, and also restores vitamin levels in Vitamins C and E. (Source: 2)
L-Carnitine – This amino acid is responsible for helping the body turn fat into energy. Some studies have shown that Carnitine reduces fat mass, increases muscle mass, and reduces fatigue. (Source: 3)
Tribulus Terrestris – I have personally used Tribulus Terrestris in many different supplements, and can attest to it's effectiveness. Studies have shown that the administration of Tribulus Terrestris extract can produce statistically significant increases in levels of testosterone. (Source: 4)
Vitamin E – Vitamin E is an antioxidant that protects body tissue from damage caused by substances called free radicals. (Source: 5)

My Personal Results With Testosteroxn
I originally received my order of Testosteroxn when I was testing the Crazy Mass cutting stack, so at the time I did NOT take it independently. However, in the interest of learning whether or not this supplement ALONE could work well, I decided to order another bottle 6 months after finishing my cutting stack cycle.
First off, I must say that my natural testosterone levels are on the higher end for my age group (I'm 33), so I didn't really NEED a supplement to boost my testosterone. That said, I figured it wouldn't be a bad idea to have an increase in testosterone, even it it was only a negligible amount.
I started taking the Testosteroxn about 4 weeks ago and just finished up the bottle. I didn't feel much for the first few days, but right around day 4 or 5 is when I started to feel the libido enhancing effects. At 33 years old I more or less have not been waking up with a "morning wood" on a regular basis. That wasn't the case with Testosteroxn….almost EVERY SINGLE morning I woke up with a raging hardon.
The type of hard-on where you have to pee so bad but have to wait until the erection subsides before you can even push your d$%k down towards the toilet 🙂
I also noticed towards the end of the same week that I was feeling alot more energetic, and seemed to be sleeping better.This led to more enhanced workouts where I didn't feel like I was getting as tired as usual. Typically I'm pretty exhausted after the gym, but 2 weeks in I wasn't feeling that tired.
By the end of the month I could DEFINITELY feel the difference. Not only was I FEELING better, I was LOOKING better.I was getting compliments from my girlfriends friends who noted that I looked like I leaned out a bit. Some of her very HOT friends I might add 😉
Click Here to visit the official Testoroxyn website.
Frequently Asked Questions
What's the difference betweenTestosteroxn and Testofuel and Prime Male?
The most notable difference between Testofuel andTestosteroxn is the formula. Testofuel uses D-Aspartic Acid (DAA), Fenugreek, Oyster extract, Magnesium, and Zinc as their primary ingredients, while the principle ingredient in Testosterone Max is DHEA and Tribulus.
The price is a bit different as well, with Testofuel coming in at $70 for a one month supply, whileTestosteroxn is $59. As far as which one works better, I personally think BOTH can work extremely well. However, the downside toTestosteroxn is the fact that DHEA has been banned by certain sports organizations, so not EVERYONE can take it (more on that below).
More or less the same applies to the contrast between Prime Male and Testosteroxn.
Can Women Take It?
It's not suggested that women take a supplement containing DHEA, as it has the potential to produce unwanted side effects in females.
Will it flag a blood test?
Because it contains DHEA, it is banned by some sports associations, including the NCAA. From the research that I gathered, however, the use of DHEA or any of the other ingredients listed inTestosteroxn are NOT banned from use in the military and will not cause a false positive on a work related drug test.
How long do I need to take it to see the best results?
It looks like the best results fromTestosteroxn are achieved by taking it on a continual basis, with brief break periods in between. I would suggest a period of 2 months on, with a 1 – 2 week off period to normalize.
I do recommend that you take it as part of an overall "stack" to see the best results (more on this below in "My Recommendation").
How do I take it?
The directions on the label state that you should take 1 tablet 2 – 3 times daily with meals.
Where can I buy it?
Testosteroxnis available on their official website, CrazyMass.com, at a price of $59.99 for a one month supply. It is NOT available in stores like GNC, Vitamin Shoppe, Walmart, or Amazon as of this review.
My Recommendation
Personally speaking, I still think Testofuel is a superior testosterone booster when it comes down to results.Testosteroxn is missing a few crucial ingredients in my opinion, namely D-Aspartic Acid, Fenugreek Extract, and Zinc. HOWEVER, Testofuel does NOT contain DHEA, and in my opinion DHEA is a very potent testosterone booster.
I thinkTestosteroxn produces the most EFFECTIVE results when stacked with some of their other supplements, including their stacks. All in all, I think this supplement is a VERY potent one, and can help just about any guy looking for increased energy, libido, and muscle enhancement.
Have You Used Testosteroxn? Leave Your Review Below!
References
1. DHEA Supplements – http://www.webmd.com/diet/dhea-supplements
2. Alpha Lipoic Acid – http://www.webmd.com/vitamins-supplements/ingredientmono-767-alpha%20lipoic%20acid%20%28alpha-lipoic%20acid%29.aspx?activeingredientid=767&activeingredientname=alpha%20lipoic%20acid%20%28alpha-lipoic%20acid%29
3. Carnitine (L-Carnitine) – http://umm.edu/health/medical/altmed/supplement/carnitine-lcarnitine
4. Tribulus Terrestris Benefits – http://en.wikipedia.org/wiki/Tribulus_terrestris
5. Vitamin E – http://www.nlm.nih.gov/medlineplus/ency/article/002406.htm
Top 3 Testosterone BoostersAffiliate Disclosure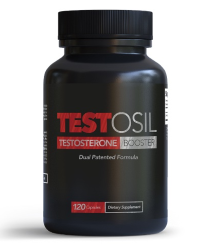 Testosil is the most effective testosterone boosting supplement on the market that I've tested.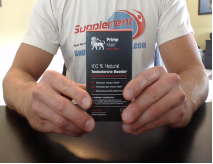 Prime Male is another very effective testosterone booster that uses clinically proven ingredients.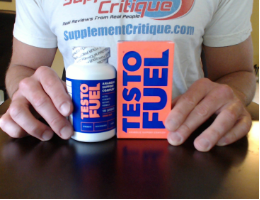 Testofuel is a VERY popular testosterone booster that contains ingredients to help older men.
User Reviews

4.0 out of 5 Stars (1 Reviews)
Have you used this supplement?
Seems to be effective
By
Richard

,
Jan 8, 2019


In Short:

I would recommend this to a friend.
I am over 70 years old and tried anabolic steroid when I experienced depression plus all sorts of symptoms related to low testosterone. My doctor prescribed the steroid and I injected it for about 7 months and quit because of the side effects. In 6 weeks my free testosterone went from borderline to 500 on a scale from 150 to 700. My libido went from almost zero to about 8 on a scale from 0 to 10. Two months after quitting my testicles were still half size and my doctor said they may never return to full size. That's when I began experimenting with food supplements and within 2 or three months my testicles returned to full size as measured by ultra sound. When I added Testoroxyn to the stack I began to see significant effect in the form of oily skin (similar to the side effect of the steroid). It is early yet but I am optimistic about this product.

I might be over doing the dosage because I take it 3 times a day plus Tribulus, Fenugreek, boron, vit. D3, all of which are included in Testoroxyn.

Bye-the-way, when I quit the steroid my free testosterone measured 96.5 which is very low because my testicles had been shutdown by the steroid. I plan to use Testoroxyn for 5 or 6 months with short breaks every 2 months and then get a blood test. Hopefully I'll know the results before the blood test. I am already seeing an improvement in morning wood. I took the product for2 weeks then quit for 2 weeks (for travel and I usually take zero pills when travelling) and have been back on it for 10 days. So far I have consumed one bottle. The 2 week break was detrimental.

Was this review helpful to you?
1 out of 1 people found this review helpful.
---
Click Here To Visit Their Website

www.CrazyMass.com/TestoRoxyn
Ask A Question
User Questions and Answers
---

Did they change the label or bane on TESTOSTEROXN - TEST-TONE ELITE SERIES -Ahsen

Yeah, they did change the label. It's the same supplement, just with a different name and label.- Rob
Was this question helpful to you?
3 out of 3 people found this question helpful.
ASK A NEW QUESTION
---

Am 26 years old , and I am recovering from a broken leg injurie , I love playing soccer , am going to start training in a couple of weeks . And I would like to use this restate time booster . I just want to use it for a little time I don't want to be huge or anything like that . I just want to Be faster and stronger , would there be a side effect if I stop using it ? What happens when you stop using it ? -Dennis

As a natural testosterone booster, it doesn't contain any testosterone or steroids, so it doesn't shut down your natural production process. In fact,  it boosts your natural process, which is how it works.  Once you stop taking it, just as it is with any supplement, your levels will go back to where they started.- Rob
Was this question helpful to you?
4 out of 5 people found this question helpful.
ASK A NEW QUESTION
---

I have high blood pressure and with that I have E D. Will this help my sex drive is in trouble -Ron

It will, but because of your medical condition, you should check with your doctor to make sure it's safe to take.- Rob
Was this question helpful to you?
3 out of 4 people found this question helpful.
ASK A NEW QUESTION
---

Hey Rob! I started taking the Tesmax from crazymass along with the paravar. However, i noticed the dhea is 50mg per dose. Will this cause gyno or prostate issues? I am currently 25 with testerone 19.4 nmol/ l with a test range (8.4-28.7). Do you think i should use an estrogen blocker with it? -Alex

The 50 mg dose is low enough for most guys not to have side effects or to need to block estrogen.- Rob
Was this question helpful to you?
1 out of 2 people found this question helpful.
ASK A NEW QUESTION
---

Is it good to stack Testosterone Max with Nitrocut? -Derek

Yep. That's a great stack for cutting or bulking, depending on your diet and workout routine.- Rob
Was this question helpful to you?

ASK A NEW QUESTION