Neuro 1 Review – Is It Effective?
Rob Miller | May 2, 2018
---
Product Reviewed:
Neuro 1
|
OUT OF 5 | Review by:
Rob Miller
|
---
REVIEWS
QUESTIONS
COMMENTS
---
Home » Nootropics » Neuro 1 Review – Is It Effective?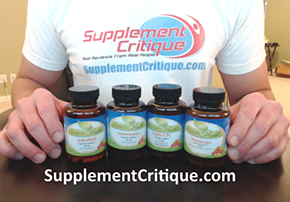 The Nootropics All Star Pack is a GREAT combo of supplements that will improve focus, concentration, and mood.
Neuro 1 Overview
Neuro 1 calls itself a Mental Energy Dietary Supplement.  These supplements go by lots of different names.

Some of them are marketed to students and young professionals who've been using Adderall.  This one is  mainly marketed toward the workout crowd, but it's focus
is on giving you the mental edge that'll amp up your workouts.  Some of the benefits you can hope to achieve are:
Sharper recall and memory
Improved sports performance
Increased energy and focus
Enhanced mood and feeling of well-being
So what's in this stuff exactly.  Well, we were curious too, especially after we read all the positive Neuro 1reviews from raving customers.  So we looked closer and here's what we found.
Neuro 1 Ingredients and How They Work
The first bunch of ingredients listed are mainly vitamins and minerals like: Protein, Vitamin C, Vitamin E, Riboflavin, Vitamin B6, Vitamin B12, Magnesium, Selenium, Zinc, and Sodium.  These make it a nice energy vitamin supplement, but in order to live up to its claims, it needs to go further.  Neuro 1 does this with its proprietary Neuroblend, which includes:
Creatine helps produce energy in the body.
Taurine is an antioxidant that combined with caffeine may improve mental performance.
Piracetam is the original nootropic which helps improve brain function.
Alpha Lipoic Acid is an antioxidant that is recently showing some promise in the area of improved brain functioning.
Ginkgo Biloba is a nootropic that improves memory and cognitive ability.
Vinpocetine improves blood flow to the brain and has been shown to improve age-related memory impairment.
Huperzia Serrata provides support for memory.
Neuro 1 is a powder that you mix with water to make a shake.  It comes in several flavors like Orange Dream, Tropical Fruit, Mixed Berry, and Chocolate.  The recommended dose is 1 scoop mixed with water 30 to 45 minutes before a meal, exercise, or any time you need to focus.  The typical recommendation is to take one scoop in the morning and one in the afternoon.
Neuro 1 Pros and Cons
Advantages of Neuro 1
The formula contains several good health vitamins and minerals.
It also contains several nootropics, or smart drug ingredients.
There are numerous favorable Neuro 1 reviews from customers who've used it.
Disadvantages of Neuro 1
It can get expensive if you use it regularly.
There have been no clinical studies.
There is no money back guarantee from the manufacturer.
Where to Buy
You can purchase Neuro 1 through several online and local resources.  The Nutrition53 website sells the 30-serving container for $54.97.  We saw it for less on Amazon and more at CVS.  You can also pick it up at your local CVS store.
Conclusion
If you want a pre-workout supplement that also gives you some mood and brain function support, Neuro 1 may be what you need.  The reviews are very positive.
As an adderall replacement, it may also show some promise.  Customers talk about the clean energy with the added benefit of clear thinking and laser focus.  The only negative really is the price.  If you take Neuro 1 as directed, you'll need to buy two tubs each month.  That's expensive.  So while Neuro 1 may be good, it may not be worth the price.
Have You Used Neuro 1?  Leave Your Review Below!
Our Top Choice For Nootropics – Optimind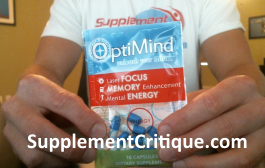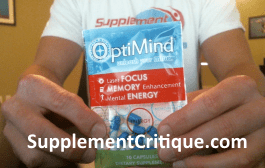 Optimind is the closest thing to Aderall that I've tested, and I've tested ALOT of these supplements.
It's made up of a high quality combination of all natural ingredients that are designed to promote laser focus, increase memory, cognition, and energy, and help to improve overall concentration.
Click Here to learn more in my official review.
How People Found This Review:
and neuro3x, and neuro 1 review, and Neuro Fuse Reviews, and neurofuse
Want To See What SupplementsWork Like Adderall?

Click Here To Find Out!
Ask A Question
User Questions and Answers
No Questions Have Been Answered For This Article.