Superior Muscle X and Superior Test X Review
By:
Rob Miller
Fact Checked On: 3-26-2016
Chiseled Abs. Massive Legs. A ripped chest, back and shoulders. Few guys have it, but I'm pretty sure we all want it. Getting the body you want is pretty difficult when you spend 3 hours in front of the TV, instead of 1 hour in the gym. Wouldn't it be nice if we could just take a supplement and become ripped in just a few short weeks? Well, a recent supplement stack I just came across is promising just that. According to social media reports, if you're serious about building muscle you NEED to get a combo of Superior Muscle X and Superior Test X. But, what comes across as a legit men's health article is actually a scam to separate you from your money. Read on to find out why.
Holy S$#T Ryan Reynolds Got Big!
So, you're browsing through your Facebook profile and a photo of the actor Ryan Reynolds pops up in your feed. It shows a VERY jacked Mr Reynolds, and the title screams out at you "Gain Muscle Fast!

Get The Results You Want With These Fitness Tips From Men's Health." It sounds intriguing, so you click on the post. It redirects you to a page that looks like the Men's Health website.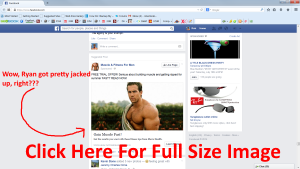 It shows a chiseled author who goes by the name of Bryan Stevens, and documents a really intriguing story. Apparently, their is some miracle combination of supplements that celebrities have been using to pack on SERIOUS muscle in as little as 4 weeks. The celebrities include the likes of The Rock (Dwayne Johnson), Hugh Jackman, Gerard Butler, and even Mel Gibson. These supplements are none other known as Superior Muscle X and Superior Test X.
The author goes on to state that he decided to "test" these supplements out himself, and the results were nothing short of amazing. He chronicles his 4 week transformation from taking these supplements, and after just 4 weeks he lost 15 lbs. of fat, while packing on 16 lbs. of muscle mass. That is just downright AWESOME, right? We'll let's take a quick look at these supplements on an individual basis to see what they're really made of.
What is Superior Muscle X?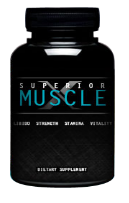 Superior Muscle X is apparently a NO producing supplement that promises a wide variety of benefits, including an increase in strength, size, and stamina. It's composed primarily of L-Arginine, Vitamins B3, B6, and B12, as well as L-Carnitine, Chromium, Green Tea Extract, and Yohimbe. Supposedly, this "miracle" combination of ingredients is getting guys across the country ripped beyond their wildest dreams, and wouldn't you know it? They're giving away their product for FREE.
What nice guys!!! Apart from the information on their website, there is little information known about this supplement. I scoured news reports, forums, and other blogs to see if anyone else was talking about it, but to no avail, came up short. At least on credible information, that is. They do mention that their product is side effect free, but that is literally impossible from what I am reading.
Case in point, Superior Muscle X contains Yohimbe, which has been shown in numerous cases to cause a range of side effects, including heart palpitations, nausea/vomiting, and fever like symptoms. (source: 1
) I can tell you from my own experience that this is truly the case. It will give you the hardon of a lifetime, but you'll be so sick you won't know whether you should orgasm or throw up, even at the same time.
What is Superior Test X?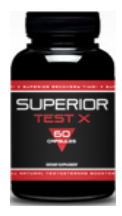 Superior Test X is apparently an all natural testosterone boosting supplement that promises a staggering sex drive, skyrocketing testosterone levels, an increase in energy, and explosive lean muscle growth. Unfortunately, they don't list their ingredients, so there's really no way for us to determine how it really works.
My guess is it probably contains some form of Fenugreek seed extract, and if you look at the bottom of their official website, they reference several clinical studies of a substance called Tribulus Terrestris.
Tribulus Terrestris is a plant based extract that has been claimed to increase the body's natural production of testesterone, making it a safer and cheaper alternative to testosterone replacement therapies. (source: 2
)
It's unknown if Superior Test X will produce any side effects, but it is well known that Tribulus terrestris is recognized as generally safe to take.
Like Superior Muscle X, Superior Test X has been seen on USA Today, Fox News, and CNBC (or so they say), and are also giving away free bottles as well. This just keeps getting better and better! Again, no credible information could be gleamed from outside sources.
Scams, Lies, and Deception
The main issue with the stack of Superior Muscle X and Superior Test X is, this REALLY isn't some miracle supplement stack, and NO celebrities haven't been using it to completely transform their bodies. Let me explain….
What you are looking at is what's known in the industry as a Farticle (or fake article) (3
), that is designed to scam you out of your money through lies and deception. It's not really the mens health website, or any other major mens health and fitness magazine. If you're still on the page, try clicking around on their categories (like Sex and love, Food, Look Better Naked, etc). Where does it lead you?
That's right….right to the Superior Muscle X page. The same applies if you try an click really anywhere else other than the links for Superior Muscle X and Superior Test x. Check out this quick screencast I made below:
Also, If you try to login and post a comment, wouldn't you know it, it never gets posted….Of course, the comments are full of praise for the products, with some guys saying they've been using them for a long time. What's even worse is, if you go back to the site tomorrow, the dates of each comments get pushed up a day. This is to try and show you that it's recent, and is a deliberate form off deception to make them appear real, even if they're not.
Another thing I noticed is actually something very peculiar. If you look at the top of the page of the photo of the supposed articles author, Bryan Stevens, you get this picture: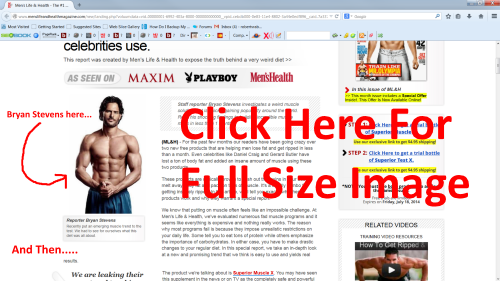 and then here is his supposed before and after photo from taking Superior Muscle X and Superior Test X…
So, which one is him? I'll leave that up for you to decide, but frankly speaking, I really don't think there is a "Bryan Stevens". Or is there?

Comment I Received From One Of My Visitors (Thanks Josh!)
"Hey, Rob! Great article, but the plot thickens!
I actually know who the illusive "Staff Writer Bryan Stevens" is. His name isn't Bryan at all. It's Joe. Joe Manganiello. AKA the super famous actor from True Blood. If you think that picture they use to show off Bryan Stevens' SICK bod looks familiar it's because it was lifted straight from Joe's photo shoot for Muscle Fitness.
http://www.muscleandfitness.com/athletes-celebrities/mf-exclusive-true-blood-star-joe-manganiello-gallery/slide/1
Furthermore, here's a screenshot of the fake website we are bashing with the real photo from the shoot.
And here's a bonus photo! Here's Joe posing with an actual copy of the Muscle and Fitness magazine in hand.
This is just tooooooo funny. Keep up the good work."
I honestly had no idea that this was Joe Manganiello, as I don't watch "True Blood" 🙂
So What's The Big Deal??
So, you're probably thinking, "Ok, what the hell does this even matter? The products are free anyways, right?" Well, the simple answer to this is NO, they are NOT Free. You see, if you click on the order pages for Superior Muscle X and Superior Test X and fill out the order form, you're then directed to a page where you have to input your credit card info.
They're telling you that you only need to pay $3.95 for shipping on Superior Test X and $4.99 for Superior Muscle X. Not bad, right? WRONG. Scroll down the page a little bit and you'll see the real truth. You see, what you are REALLY signing up for is a free trial, which allows you to "test" the product before you're charged.
In essence, after 14 days you will charged the low, low price of $84.98 for Superior Muscle X, and $83.99 for Superior Test X. What's worse is that, if you don't cancel in the allotted time period, they will continually send you more of their supplements every month, and as a result, continually bill your credit card. Some guys end up paying THOUSANDS of $$ before they realize what hit them!
The FTC posted a great video about this warning customers of the scam, check it out below:
Conclusion
I've written about these types of scams time and time again, and it looks like every week there's a new combo stack popping up. But does Superior Muscle X and Superior Test X really work? Maybe…but highly unlikely. There is nothing "revolutionary" about their formula's, and the fact that they don't sell it as a stand alone product leads me to believe they simply want your credit card information so they can bilk you out of as much money as possible.
If you REALLY want to look like Ryan Reynolds, it takes a healthy diet, plenty of exercise and rest, and the RIGHT kinds of supplements. Not some kind of miracle, fly-by night product like these 2. Don't say you haven't been warned…
Have You Used Superior Muscle X and Superior Test X? Leave Your Review Below!
References

Top 3 Pre WorkoutAffiliate Disclosure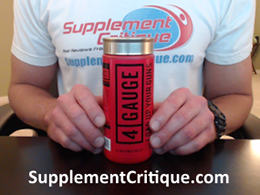 4 Gauge is a brand new pre workout that kicks in FAST and will rev up your workouts.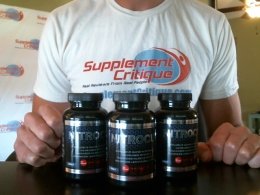 Nitrocut is a VERY effective pre workout supplement for a variety of reasons, see why here.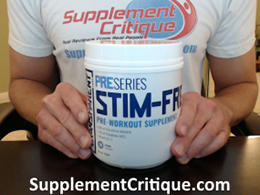 If you're looking for a stim-free pre workout, add Transparent stim-free to your list!
Want To Really Get Ripped?

Click Here To Download My FREE "Get Ripped" Ebook!
Ask A Question
User Questions and Answers
---

how do I contact them so I can cancel my order? -Jim

The contact information for Superior Muscle X is Phone: 1-888-65­9-8337 and Email  support@superiormusclex.com.  For Superior Test X, it's Phone: 1-855-418-6448 and Email: support@superiortestx.com.- Rob
Was this question helpful to you?
3 out of 4 people found this question helpful.
ASK A NEW QUESTION
---

How did I get charged $8.95 plus an international transaction fee of $0.27 on something I never ordered or authorized? I will be contacting my bank. Please answer immediately! -Christine

SupplementCritique.com is a review website. We have no affiliation with these products. You'll have to get in touch with them directly. The contact information for Superior Muscle X is Phone: 1-888-65­9-8337 and Email  support@superiormusclex.com.  For Superior Test X, it's Phone: 1-855-418-6448 and Email: support@superiortestx.com.- Rob
Was this question helpful to you?
2 out of 2 people found this question helpful.
ASK A NEW QUESTION
---

Can I take both supplements together? -Michael

They're promoted as a stack to use together.  If you order them, make sure you're aware of the terms of the free trial. If you don't cancel in time, they'll charge you full price and you'll get new bottles each month.- Rob
Was this question helpful to you?
1 out of 1 people found this question helpful.
ASK A NEW QUESTION
---

Can I take Test X and Muscle X together 2 times a day -David

It's tough to tell since Test X doesn't let you know what their ingredients are. I suggest you check out the Crazy Mass Cutting Stack instead.  It's much more effective.- Rob
Was this question helpful to you?
1 out of 1 people found this question helpful.
ASK A NEW QUESTION
---

Should I take one before working out? Or after or both at the same time? -luis

I haven't been able to find dosing information. My suggestion is that you follow the instructions on the bottle.- Rob
Was this question helpful to you?

ASK A NEW QUESTION
---

I feel for the scam. Seemed like a great product. I have not yet taking any of it. But from day one of receiving the product payment amounts and trial date periods were not correct. I went ahead and tried to contact them by email because by phone just never seemed to get threw. So I went ahead and canceled my card so no further payments can be taken. Should I send back product? As of rite now all they got me for was the shipping cost. I don't feel I should pay to ship product back. -Ronnie

Since you canceled your card, you probably don't have to send it back, but I  can't know for sure if or how they'll respond.- Rob
Was this question helpful to you?

ASK A NEW QUESTION
---

What did I order that I am being charged 8.95 a month -Mary

SupplementCritique.com is a review website. We don't see anything, so the charges aren't coming from us. If you check the transaction on your statement, there should be a name and/or phone number you can use to figure it out.- Rob
Was this question helpful to you?

ASK A NEW QUESTION
---

Cómo se toma -Glenda

Siga las instrucciones que aparecen en las botellas.- Rob
Was this question helpful to you?
0 out of 2 people found this question helpful.
ASK A NEW QUESTION