Contents
How It Works
User Reviews and Feedback
FDA Warning
Will Black Ant Pills Increase My Penis Size?
Where to Buy
Conclusion
User Reviews
Let us open this Black Ant Pills review with a few initial comments.
Firstly, we are always open to alternative treatments.
After all, we've personally tested 70 different male enhancement pumps, creams, viagra alternatives, and extenders.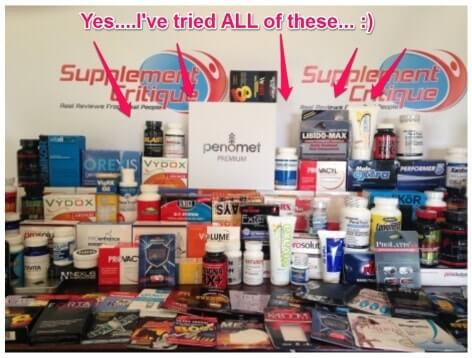 You can say we know what works and what doesn't.
Second, we understand that this is a product that seems a little "farfetched".
I mean really, a pill that uses crushed up black ants to give you a boner?
Yeah right!!
Lastly, this review was done to seriously investigate the claims made by the manufacturer and to ensure that consumers could safely try this product.
With all of that said, Black Ant Pills claim to cover a lot of territory.
Not only do they insist that they have a lasting effect on hormonal levels, but they also claim:
Improved immune system
An increased libido
Improved erections for men
We will look at the ingredients, gauge consumer response, and consider the pricing to make our determination.
Watch Our Video Review Or Scroll Down To Read More
What Are Black Ant Pills?
Designed to boost blood flow and libido, Black Ant Pills are an over the counter sexual enhancement supplement.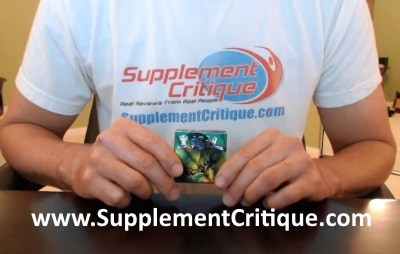 They are designed to be used "as needed", which means that you simply take 1 pill about 30 – 45 minutes prior to sexual activity.
The reported benefits include:
Longer, firmer erections
Increased sexual stamina and libido
Reduce premature ejaculation symptoms
Increased sexual confidence
Variations Of Black Ant Pills Found Online
There are several companies that manufacture Black Ant Pills, many of which can be found online.
There's Polyrachis Extract Powder, which is also known as Chinese Mountain Ant.
You also have the Lost Empire herbs Black Ant Extract Powder, which apparently is gluten free and Vegan / Paleo friendly.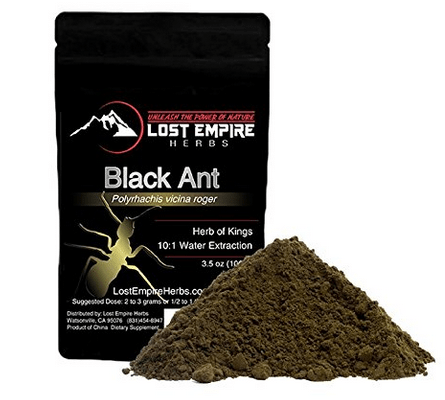 And you even have Barlowes Herbal Elixirs Mountain Ant Extract, which provides a 20:1 ratio of whole ants.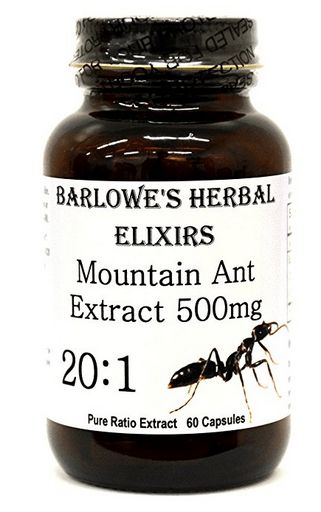 Sound appetizing, doesn't it? 🙂
For the purposes of this review, we're going to be talking about the original Black Ant Pills that have the chinese writing on the label and a picture of an Ant running across the page.
What Are The Ingredients In Black Ant Pills?
Black Ant Pills do indeed use black ants as their primary ingredient.

In fact it is the Polyrhachis vicina roger used in the formulation.
There is also Ginseng, Medlar, Hippocampi, Formica and a "proprietary blend of essential amino acids and trace minerals".
Of course, if you try to find out what that "proprietary blend" consists of, you'll come up short.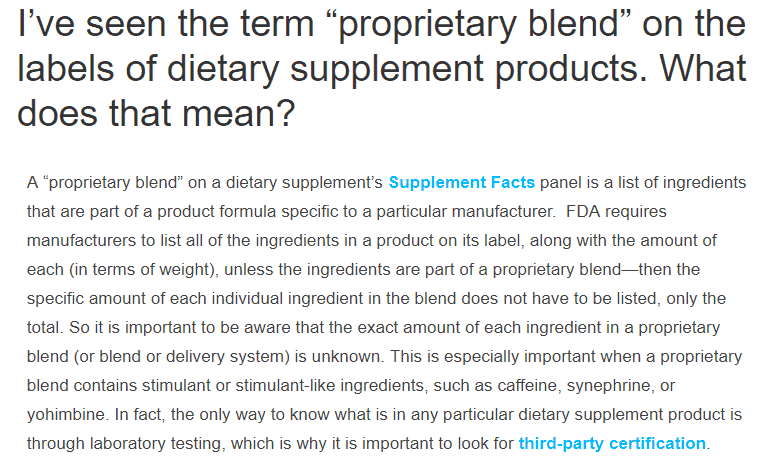 The problem with "proprietary blends" is that we don't know if there will be any conflict with certain types of medications.
This can be potentially dangerous for those with heart problems, blood pressure issues, or even simple everyday ailments.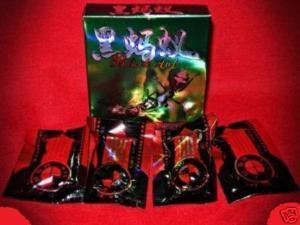 Now, we know that Ginseng is a common compound used in the treatment of sexual dysfunction, but the rest of the ingredients are a bit of a mystery in terms of sexual health benefits.

The official website does give a lot of information about the history of black ant usage, but we should warn you that it is extremely graphic.

What Do The Black Ant Pills Reviews Say?
Since we originally posted this review, we've had 14 people leave feedback from their experience with Black Ant pills.
Several have left 5 star reviews, stating that it was quite literally the best male enhancement pills they've ever used.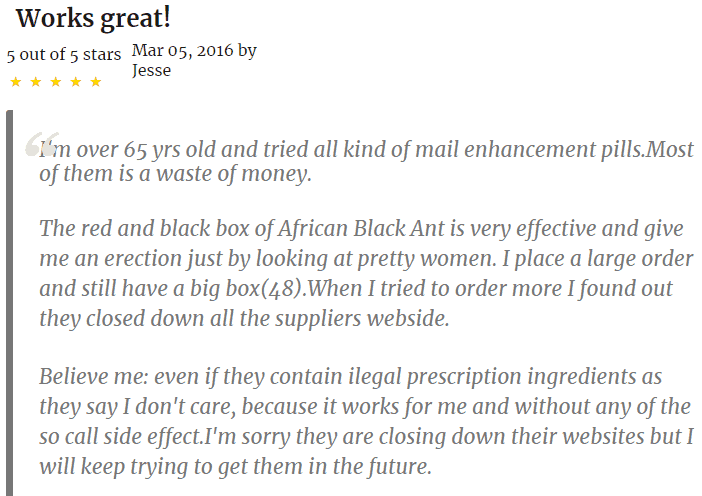 However, not everyone has shared the same sentiment, as you'll note in the following 1 and 2 star reviews: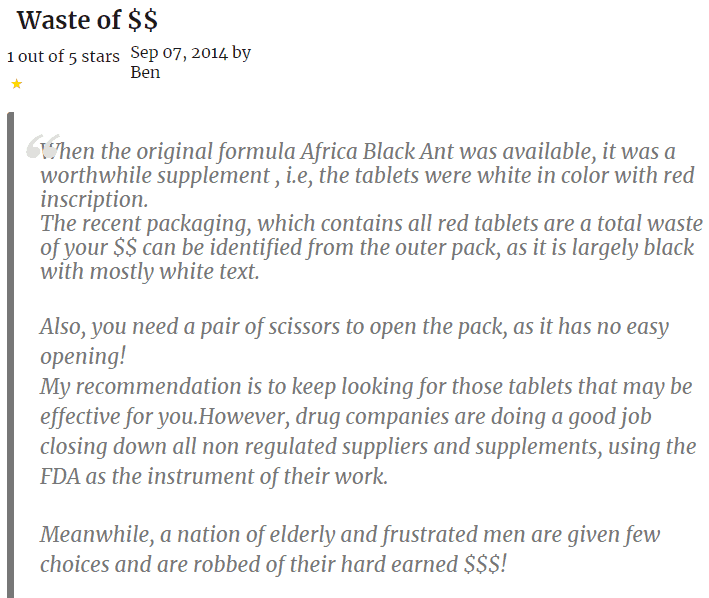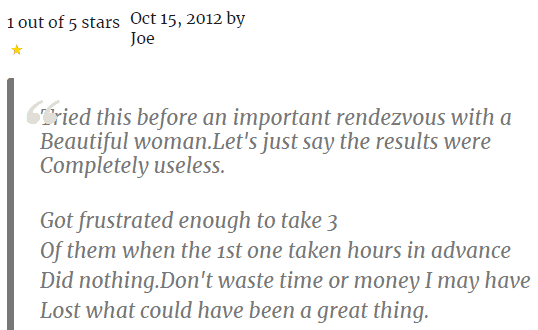 Want To

REALLY

Get Bigger?
Click Here to sign up for my free "Enlargement Exercises" eBook.
My Personal Results
I decided to try out Black ant pills myself, and I can definitely tell you that they are putting Viagra into their pills.
The effects were almost identical to the ones I get when I take Sildenafil.
I could feel it start to work in about 20 minutes, and it seemed to last for about 12 hours or so.
All it took was a little visual stimulation (ie porn), and I was hard as a rock in less than 5 minutes.
I also felt like I could last WAY longer than usual.
While it did give me a REALLY good erection, it didn't come without a price.
What are the side effects of Black Ant Pills?
For me, they included the following:
Facial flushing: Within the first 10 minutes, my face started to turn bright red and blotchy.
Lowered blood pressure: I took my blood pressure before taking Black Ant pills, and it was 125/83. About 30 minutes later, I took it again and it dropped to 115/72.
Ringing in the ears: I experienced tinnitus that would come and go for the next 4 hours.
Stuffy nose: Within about 45 minutes I started to get a stuffy nose. The kind of stuffy nose where when you blow your nose nothing comes out.
Headaches: I got a SERIOUSLY bad headache about 45 min. after taking 1 pill.
According to RXlist.com, practically ALL of these common side effects associated with drugs like Sildenafil.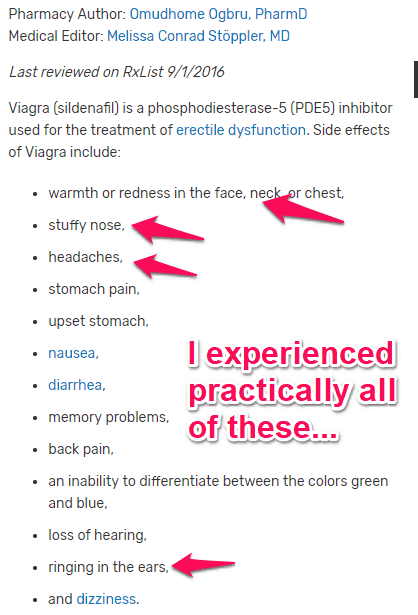 More on that below.

Black Ant Pills FDA Warning
In 2015, the FDA announced that they had found the ingredient "sildenafil" in a laboratory test result.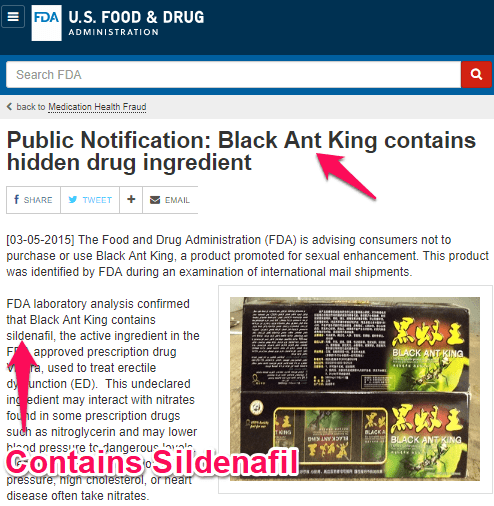 For those of you who are not aware, sildenafil is the active ingredient in the popular erectile dysfunction medication Viagra, which would explain why some guys are getting great results from it.
Of course, this is illegal and unethical, and the makers of Black Ant pills are obviously breaking the law on this one. Here's a link to the FDA warning: https://www.fda.gov/Drugs/ResourcesForYou/Consumers/BuyingUsingMedicineSafely/MedicationHealthFraud/ucm436654.htm
They're not the first ones to do this, and certainly not the last.
Other supplements that have been caught doing this include:
And a whole host of other ones that I won't mention here.
So why is this a bad thing, especially if it works?
Because sildenafil works as a vasodilator, it allows the blood vessels and arteries to widen, allowing for increased blood flow.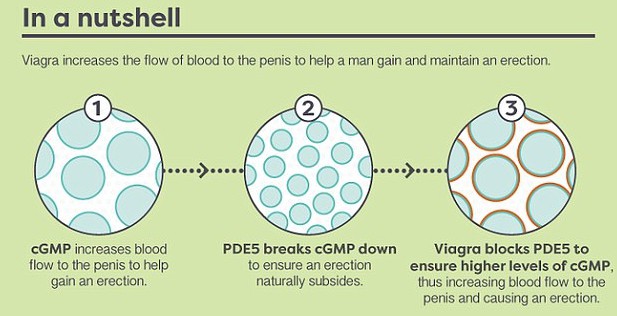 This causes a sharp drop in blood pressure, and if you're one of the millions of Americans on blood pressure medication, it can cause your blood pressure to drop WAY too low.
Where To Buy Black Ant Pills
Ever since the FDA recall, Black Ant Pills have been VERY difficult to find (if not impossible).
Before I get on to where you can potentially buy it, I want to let you in on a little secret.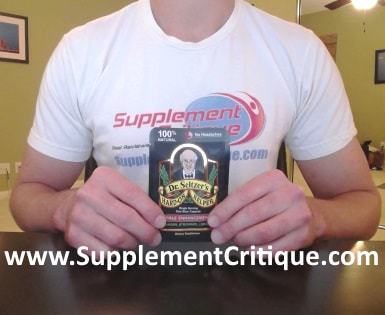 I just finished testing a supplement called Hardon Helper back in December, and it is by FAR the best fast-acting male enhancement pill I've ever tested.
Better than Black Ant.
Better than any of the Rhino pills.
And better than the 45 other fast-acting pills I've ever tested.
I wont get into the details here, but if you're interested click here now to see my complete review.
The best part about Hardon Helper is that they do NOT contain any dangerous or illegal ingredients.
I know this because I know what Viagra "feels like".
I didn't get that feeling at ALL with Hardon Helper.
Anyways, as far as where to buy Black Ant pills.
You're first option would be to check with a sex shop near you.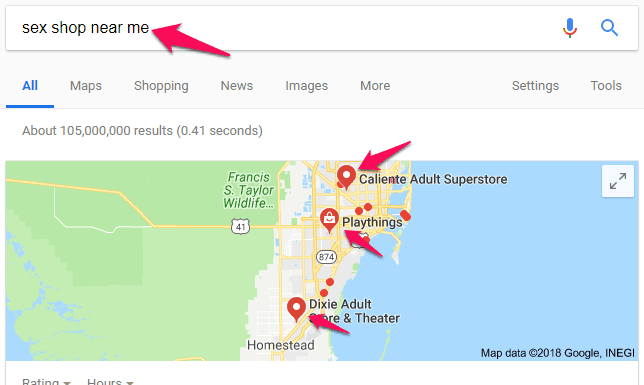 Adam and Eve stores are a big one, but I doubt they carry them.
You'll have to find one of the smaller "mom and pop" stores, if they even carry Black Ant at all.
You're other option would be to run a search on eBay.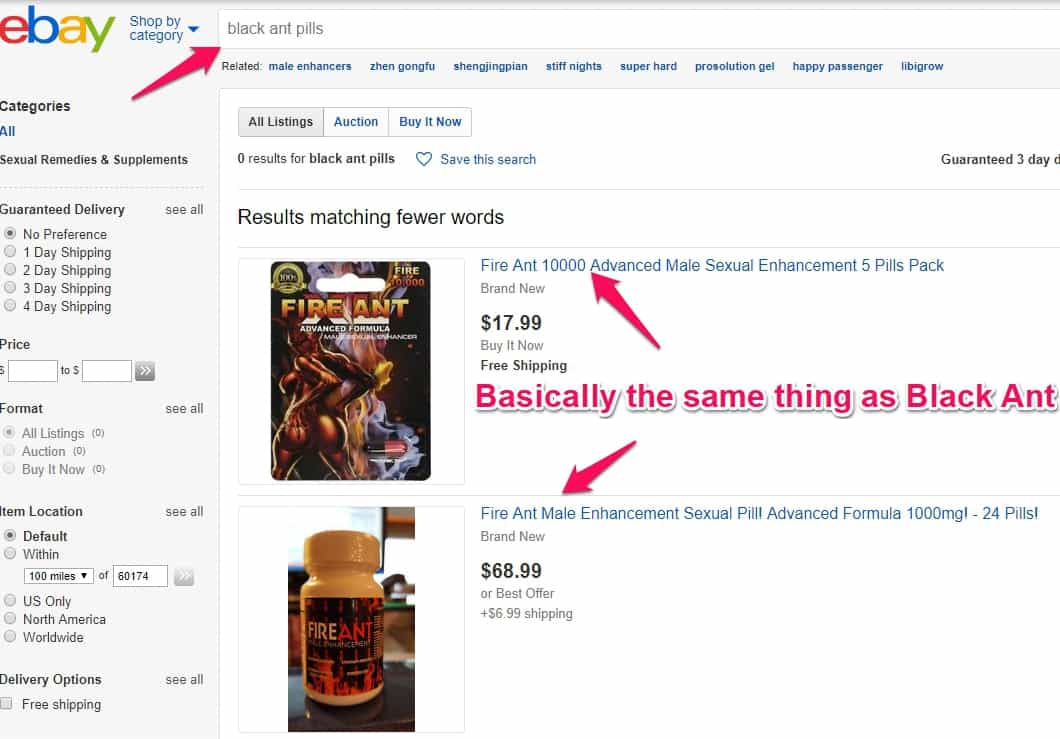 While you likely won't find the original Black Ant there, there's a few alternatives that are basically the same thing.
The strongest versions include:
African Black Ant
Black Ant King
BMSW
Fire Ant 10000
Black Mamba
Black Stallion
The price for these Black Ant alternatives are a bit high. For example, Black Stallion 50000 costs almost $12 for 1 pill.

Also, virtually ALL of the Rhino brand pills contain some sort of illegal ingredient in them, so they'll work as well.
They include:
Rhino Thrust Gold
Blue Rhino
7000
Rhino 7 5000
777
You can find those pretty readily available on Amazon, for now at least.
What about the original?
As for the original Black Ant pills, a single box of four tablets used to sell for $24. The dosage is a single pill shortly before sexual activity, so this means that someone who is sexually active is going to have to absorb some very high costs in order to enjoy the benefits that they might obtain from this product.
We felt that the high price for only four capsules was simply to get a first time buyer to commit to the purchase, because it wasn't a certainty that they would be back.
That could be a big deterrent, especially to people looking to get the most bang for their buck, so to speak.
You used to be able to buy Black Ant Pills on major retail sites like Amazon, Ebay, and others, but as of this update they no longer sell the original version.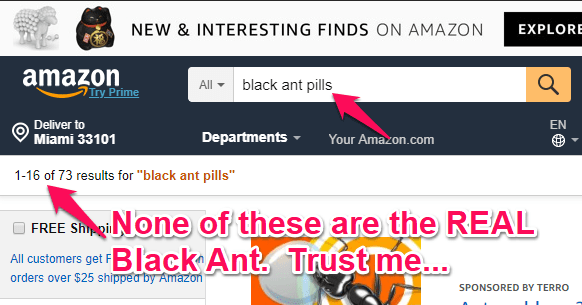 This is likely because of the FDA warning discussed above.
I checked with several brick and mortar stores like GNC, Walmart, Walgreens / CVS, and Vitamin Shoppe an none of them seem to carry it either.

Overall Conclusion
Normally I wouldn't have a problem recommending a product like Black Ant Pills.
It does what it says it does, and is offered at a relatively cheap price when compared to many other products that don't even work.
With that said, they (the guys that make Black Ant) are playing with peoples lives by doing what they're doing.
If you want Viagra, go to your doctor and get a prescription.
If you want to have peace of mind and a strong erection, you should go with either an alternative that is more trustworthy, or you could simply go with a prescription alternative.
It's the safest bet, and you'll know EXACTLY what you're getting.
If you want something healthy and all natural, go with other more proven products that really do work.
Have You Used Black Ant Pills? Leave Your Review Below!
Top 3 Male EnhancementAffiliate Disclosure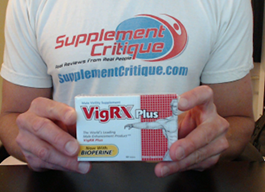 Out of the 100+ male enhancement products Ive tried, Vigrx Plus was the best.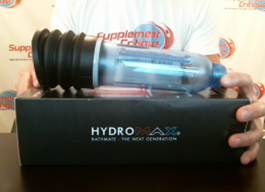 The Bathmate is a proven water-based vacuum pump that can help dramatically increase your size.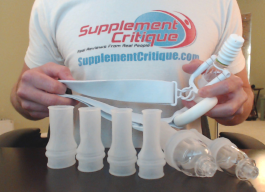 Phallosan Forte is a GREAT option for those looking to grow both length AND girth, permanently.
Honorable Mention/Inexpensive Alternative:Magnum Rings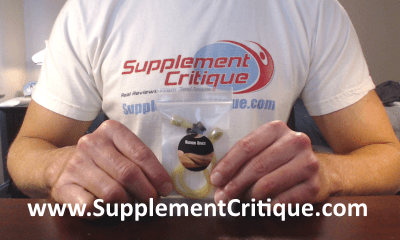 Magnum Rings are a VERY affordable option to getting both girth and length gains, at a fraction of the price of the Bathmate or Phallosan Forte.
Click Here to see our full Magnum Rings review.
5 Star User Reviews

3.6 out of 5 Stars (17 Reviews)
Have you used this supplement?
I have used Black Ant Pills now a number of times. Most of the time they work very well, every now and then, they are a complete letdown. I have found, for best results, you need to take them about 90 minutes before they are needed. I like to take them before a massage and my masseuse was very impressed with size and hardness and while massaging my legs. She could not help herself from have a number of little touches and squeezes and making positive comments, then when it was time to orgasm black ants made the experience fantastic. The only side effect is some reflux, but other than that all is good.

Was this review helpful to you?
40 out of 47 people found this review helpful.
---
Work's
Black Ant works. I have been taking it for three years now.

Was this review helpful to you?
16 out of 21 people found this review helpful.
---
For those who are searching for information on Black Ant, I purchased from a street seller in the Philippines with reasonable foreboding. I took one in advance of a reunion with a long separated friend. Fourteen hours and 12 orgasms later, she rolled off of me and grabbed hold of my turgid member exclaiming with enthusiasm, "Is this real?!" I laugh to this day about that moment. Quite amazing and it does not fuck with your head like Cialis or Viagra, which seem harsh to me.
I wish I knew the contents. I still wonder as to the contents.

Was this review helpful to you?
1 out of 1 people found this review helpful.
---
African Black Ant
By
John Ruiz

,
Jan 24, 2014
I was having serious issues having sex with my wife of thirty-four years. I just couldn't satisfy her sexually. I went to a local store a few months ago, and I was introduced to a product called African Black Ant. I was desperate for anything that would improve my sexual life, so I tried the African Black Ant. I am telling you without being biased, that this product has changed my life tremendously as far as sex is concern. I finally satisfied my wife and also myself sexually. I thank God for this product. I would strongly recommend this product to anyone that is having ED issues. I paid only $10.00 US for four tablets. It is an excellent product!

Was this review helpful to you?
1 out of 1 people found this review helpful.
---
BLACK ANT WORKS..
I have been using the Black Ant 4600mg Green Box for a few years now and I love it. It lasts in your body for about 2 days and has no side effects. It gives you rock hard erections in 30 to 45 mins. It prolongs ejaculation. After ejaculation, you still maintain a hard erection to have sex again if you want to without waiting for a normal recovery time.

I have over 10 friends that I have let try the Black Ant and they love it also and they did not have any side effects. You can find it on the internet for $32.00 for 80 pills. That's about .40 cents a pill. Viagra cost me $20.00 for 1 pill with my insurance. We call the Black Ant a poor man's Viagra. Also, Black Ant will work when you are ready and stimulated.

You will not have a hard erection like Viagra when you are not ready for sex. It works more like Cialas, it is ready when you need it. I hope you print my comments about Black Ant, because they are the truth and they have been tried and tried again with success.

Was this review helpful to you?
2 out of 3 people found this review helpful.
Rob Miller: Not sure what version of Black Ant you're using, but our big stink with this product is that they are illegally injecting prescription drugs into their supplement to make it work.
You can't call yourself an "all natural" pill, and put pharmaceutical ingredients in it at the same time...

Rob
SupplementCritique.com
---
Black Ants is fantastic!
By
Lysander Alexander

,
Oct 28, 2015
Black Ant is the best male supplement money can buy. It is better than Viagra and Cialis. It has no side effects and lasts longer. I strongly recommend it.

Was this review helpful to you?
1 out of 1 people found this review helpful.
---
Black Ant
The reviewer is 100% spot on! After 5 minutes I felt energized and was able to last all night. Could not have an orgasm.

Was this review helpful to you?
1 out of 1 people found this review helpful.
---
Works great!
I'm over 65 yrs old and I have tried all kind of male enhancement pills. Most of the products are a waste of money. The red and black box of African Black Ant is very effective and gives me an erection just by looking at pretty women. I placed a large order and still have a big box(48). When I tried to order more, I found out they closed down all the suppliers' websites. Believe me: even if they contain illegal prescription ingredients as they say I don't care because it works for me and without any of the so call side effects. I'm sorry they are closing down their websites but I will keep trying to get them in the future.

Was this review helpful to you?

---
Impressed
By
Aaron

,
May 19, 2021


In Short:

I would recommend this to a friend.
I took them back in the day and had great results. They have me energy, increased semen and quick replenish and I grew in girth and size that I still enjoy you this day. They never let me down if you know what I mean. All others I tried give me terrible headaches except for a generic Viagra I got from this old man back in 2010. Wish I knew what they were called but you definitely didn't need a belt after taking one.

Was this review helpful to you?

---
Want To REALLY Get Bigger?

Click Here To See Products That WORK!
Ask A Question
User Questions and Answers
---

How long does it take for Black Ant to start working? -Roger

Generally speaking you should start feeling it's effects within 30 - 45 min.- Rob
Was this question helpful to you?
23 out of 26 people found this question helpful.
ASK A NEW QUESTION
---

Can I buy Black Ant overseas? -Ankit

It depends on what country you are in.  From what I understand, they do ship worldwide to countries like India, Pakistan, Australia, Canada, and the UK, but check with them to be sure.- Rob
Was this question helpful to you?
13 out of 14 people found this question helpful.
ASK A NEW QUESTION
---

How do I take Black Ant? -Mike

The directions on the label state that you should take 1 capsule 30 min. prior to sexual activity.  It's unclear whether or not you should take it on an empty stomach.- Rob
Was this question helpful to you?
14 out of 18 people found this question helpful.
ASK A NEW QUESTION
---

Will this flag a blood test? I'm concerned Black Ant may trigger a false positive. -Mark

Unless they are testing for Viagra then no, Black ant pills should trigger a negative result on a blood test.- Rob
Was this question helpful to you?
10 out of 13 people found this question helpful.
ASK A NEW QUESTION
---

Where can I buy Black Ant pills in Mexico? -Julio

They may sell it in some local sex shops, but you'd have to check each individual one to find out.  Other then that you can buy it online.- Rob
Was this question helpful to you?
10 out of 13 people found this question helpful.
ASK A NEW QUESTION