Cis 9-T11
Reviewed By:
Rob Miller
2.0 OUT OF 5.0
We investigate claims of supplements all the time, from the downright ridiculous, to the possibly effective.  We recently came across a product called Cis 9-T11, which promises a gain of 700% in muscle in only 7 weeks.  If it really does this then you may be in for a real treat.  But can a supplement really do this?  Read on to learn more.
What is C9-T11?
C9-T11 is a workout formula designed by a company called Appied Nutritional Reasearch, or ANR for short.  It uses a compound called Cis9-t11, which is commonly found in meat and dairy products, and is commonly referred to as CLA (or, Conjugated Linoleic Acid).  CLA is nothing new, it's present in over 300 different supplements I have researched, including CLA extreme and Advocare Thermoplus.  C9-T11 uses CLA as it's primary ingredient, as well as containing filler ingredients such as gelatin, st. johns bread extract, glycerin, caramel color, and titanium dioxide color.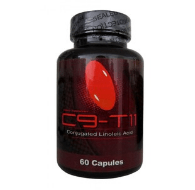 The claim made by Cis 9-T11 is that their product will help to enhance muscle growth and development by as much as 700%.  The suggested use is 1-2 capsules first thing in the morning, followed by 1-2 capsules late afternoon.  What we don't understand is why this company and their ads claim that CLA is derived from some rare African plant, which raised our suspicion.
Reviews of C9 – T11
Their appears to be some pretty good reviews posted online for Cis9 – T11, however, I wouldn't call it an overwhelming positive response.  Since the product has been around for quite sometime, I would imagine that their would be more reviews, but unfortunately that's not the case. We were actually emailed a review of C9-T11, check it out below:
"I just wanted to let you guys know I tried out that C9-T11 and wanted to tell you what it did….It took a few days, but I started to feel like I was getting more cut and ripped, and just felt like I had more energy and stuff.  After using it for a little while though like 3 weeks I stopped feeling that feeling.  You guys should try it out too, just to see what kind of results you get too, because I feel like I been ripped off."
Justin, Texas
Is C9-T11 Legit?
There is some legitimacy to the use of CLA, as over 30 published clinical studies have confirmed that it indeed does help to burn fat and build muscle.  However, this is not without some controversy,  including the possibility that use of CLA may increase the risk of cardiovascular and inflammatory diseases.  Since CLA is found in so many other supplements, the price may also be somewhat of a deterrent.
C9-T11 costs $37 for one bottle, versus CLA Extreme, which comes in on average at about $17 per bottle.  While C9-T11 contains 1000mg of CLA, CLA Extreme only contains 750 MG.  Is this enough to make a difference?  I don't think so, and you also have to consider the fact that CLA Extreme also contains several other natural extracts to help optimize performance.
We also looked to see where you could buy C9-T11, and noticed it was not for sale on GNC or Vitamin Shoppe's websites.  However, it was for sale on Amazon, for a low low price of $79.99.  Why so expensive, we have no idea.
Conclusion
With so many other products on the market that can produce nearly the same results with C9-T11, I would say take a pass.  It's somewhat overpriced when compared the competition, the potential for side effects is unknown, and it's primary ingredient is readily available in several other products.  I think that the marketing hype is what is helping to drive the price up, and to be honest, the claims seem a little over hyped as well.
Have You Used Cis9-T11?  Leave Your Review Below!
Our Top Pre Workout Supplement – Nitrocut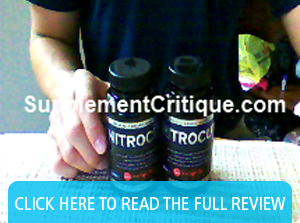 Nitrocut is one of the only non-stimulant containing pre workout supplements that we found actually works. This supplement uses L-Arginine to enhance Nitric Oxide production, giving you extreme gains in the gym, and even in the bedroom.
I personally tested a 3 month supply, learn more about my results in my official review.

How People Found This Review:
and cis9-t11, and cis9-t11 reviews, and C9-T11 2 0, and cis 9-t11, and cis 9-t11 reviews, and cis9-t11 gnc
Sign Up For Our FREE 41 Page Ebook
"How To Get Lean, Ripped, and Strong Quickly"
Includes Three
Free

Bonuses ($23 Value):
Free

"Big List Of Foods You Can Eat" Quick Reference Sheet

Free

Get Ripped Workout Log

Free

Sample Meal Plans