Force Factor 2 Review – My Personal Experience From Using It
By:
Rob Miller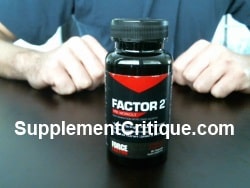 ---
---
Home
»
Pre Workout
» Force Factor 2 Review – My Personal Experience From Using It
If you're reading this page, you most likely stumbled across an ad for Force Factor 2, and are wondering whether or not it works.
I recently had a chance to test this pre-workout supplement out, and wanted to share my experience in this review.
First off, I want to note that I am not affiliated with the Force Factor 2 company in any way, shape, or form, and my opinion does not construe the opinions of all men who have tried this product.
That is to say that it may work for some men, and it may NOT work for some men, that's just the way it goes.
This is simply my personal review and results from trying the product for a period of one month.
My Order of Force Factor 2
Like you, I stumbled across an ad on Facebook or yahoo about some miracle supplement that was taking GNC by storm, and helping men across America get ripped and build lean muscle. I immediately figured it was Force Factor 2, based on the very same marketing material that was used when they were promoting their original formula, Force Factor (see my review of that one here)
After looking at the label and reading some of the reviews, I figured I would give this new formula a shot and ordered my "trial" bottle. Just to be clear, if you order the free trial of Force Factor 2, it is indeed not "free".
Instead, what you are doing is enrolling into a free "trial" of their product, which allows you to use it for a brief period of time before you are charged the full price and enrolled in an auto-shipment program. If you call to cancel within that trial period, they will not charge your credit card and you will not be billed for the product. They are a very reputable company that has a stern money back guarantee, so you really don't have much to worry about in that regard.
How Exactly Does Force Factor 2 Work?
According to the companies own website, Factor 2 works safely and effectively by utilizing a broad array of ingredients. Those ingredients include Vitamin C, Calcium, Folic Acid, and what they call a "dual stage Next-Gen NOXplosion". This is broken down into a Stage 1-Substrate Input Regeneration complex which is made up of L-Citrulline, Lovage Root, and CoQ10.
The second stage is a Dynamic NOx Enzyme Catalysis System that contains L-Taurine, L-Norvalline, Vitamin C, and Calcium. If this sounds like something your professor in health class used to talk about, it's actually not as bad as it sounds. For example, CoQ10 is a potent antioxidant which helps to protect the body from damaged caused by harmful molecules.
Taurine has also been shown to help reduce blood pressure, as well as alleviate certain cardiovascular ailments. The being said, onto my results…
My Results With Force Factor 2
I've tried ALOT of pre-workout supplements in the past. I have been an avid weight lifter and sports enthusiast for as long as I can remember, and have pretty good experience as to which products work and which suck. Unlike alot of those supplements, Force Factor 2 doesn't appear to use L-Arginine, but instead uses a number of amino acids and vitamins to provide sustained energy. Check out the full ingredient label here. While the ads for Force Factor 2 can be downright comical at times, their is a bit of truth to their supplement.
I started taking it right away, and they do a pretty good job of explaining the schedule that it needs to be taken. According to the box, on workout days you're supposed to take 2 – 4 capsules with breakfast and 2-4 capsules 30 minutes prior to working out. On non-workout days you take 2-4 capsules with breakfast and then 2-4 capsules with lunch. All of this is to apparently build up your energy levels, which will leave you with more effective workouts.
I started off with the lowest possible dosage, so 4 capsules a day, for the first couple of days. I noticed after the first few days that I was beginning to feel a little bit different, but nothing dramatic. I was lifting just a bit more, and my energy levels "felt" like they had improved, albeit by a small amount. Since Force Factor 2 doesn't contain any stimulants, I didn't notice any side effects that are typical of some other pre-workout boosters I've tried before, like racing heart, nausea/indigestion, headaches, and insomnia.
2 weeks in is where I started to see the real benefits. I felt like I was getting alot more energy, leading to some REALLY great workouts. The best part was because it doesn't contain any harmful stimulants like Yohimbe, I was left without the "crash" feeling you get from some other products. It had no effect on my appetite, so if you are planning on trying it out for weight loss benefits I would recommend that you stack it with a fat burner like Phen375, and a T-Booster like Testofuel for the best results.
Once I completed my one month test, I had brought my weight down about 10 lbs., and truly felt much more defined and packed on some serious muscle. I noticed my lifts were more powerful, and it felt as though my recovery times had been reduced dramatically. Watch my video review below if you'd like to learn more:
Pro's
Great increase in energy and workouts
Easy to take
No harmful stimulants
No "crash"
Made by a reputable company
Available in your local GNC
Con's
A bit on the expensive side at close to $70 a bottle
Not as effective if your looking for something containing stimulants
Not ranked very well on third party review sites
Factor 2 Vs. Cellucor C4
A common question I get about Factor 2 is how it compares to other leading pre workout supplements, like C4 Extreme. There are a few key differences between both of these supplements, which I will touch on briefly below: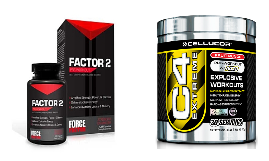 Ingredients: The ingredients in Factor 2 and C4 are actually pretty similar, but C4 adds a bit more on the stimulant side. For instance, it contains about 135 mg per serving of caffeine, as well as Vitamin B12 and Niacin. This is a good thing, and also a bad thing….C4 will give you a MAJOR energy burst for the gym, but after a few hours when it starts to wear off you'll get that "crash" feeling. Factor 2 gives you the energy boost, without the annoying crash.
Price: There's also a notable price difference between the 2. C4 comes in a wide variety of sizes, with 5 servings costing about $8, and 60 servings costing $60. a one month supply of Factor 2 is about $70 on their official website, but you can find it cheaper on Amazon and a few other retailers.
Results: Ingredients and price aside, what's most important is the results. For me personally, I liked the results I got with Factor 2 better then what I got with C4 Extreme. It wasn't just that I didn't like the huge peaks and valleys I got with C4, I just felt like overall the Factor performed better at giving me sustained energy and endurance to blast through my workouts.
Also, because C4 contains creatine, I felt like I was getting a bloating effect from it. Some guys might like this, especially if they are bulking up, but my goal was to shred down and this didn't help.
Frequently Asked Questions about Factor 2
Does It Boost Testosterone?
No. This supplement is not intended to boost normal or baseline testosterone levels. For this I would recommend you check out a product called Testofuel, which works to mimic the effects of increased testosterone, and has been shown to elevate normal levels quite a bit.
Should I Cycle This?
As with any supplement, I feel that if you decide to take this you should definitely cycle it. In my opinion, the best results would be seen if you cycle it on a 4 week on, 1 week off basis for a period of 3 months.
Are Their Any Side Effects?
With my personal testing, I did not note any side effects from Force Factor 2. That being said, their is ALWAYS the potential for side effects with anything you injest in your body, and this supplement would be no different. Browsing around some of the forums, I noted that some men experienced hair loss and increased blood pressure, but it was unknown as to whether or not the cause was from the supplement.
Who Makes It?
According to their official website, the Force Factor brand was created by 2 Harvard university rowers that needed something to help boost them for their competitions. The company is headquartered in Boston, MA, and has been in business for close to 8 years.
They have NUMEROUS other supplements they've come out with over the years, including Alpha King, Test X 180 Tempest, Alpha, and original, and Lean Fire XT.
Will Force Factor 2 Trigger A False Positive on A Blood Test?
From my research, there doesn't appear to be any ingredients in Force Factor 2 that would lead to "popping hot" or a false positive on a drug test. If you are about to get a blood test that I would definitely recommend that you bring the bottle with you to the lab and let them know you've been taking it to avoid any red flags.
How Can I Cancel My Free Trial?
If you feel like you may have been suckered into getting their free trial, you do have options. First, you can give them a call at their corporate office in the US and Canada at 1-877-492-7243 and inform them of your intention to cancel. If you're in Australia, the contact number is 1800-084-649and in the UK it's 0808-1012202. When you call to cancel, they will probably offer you a heavily discounted price, or even offer to extend your trial period for another 2 weeks. The choice is entirely yours, and it's not a bad idea to extend it so you can give it a fair shot.
The only downside is that they require you to send back the unused portion, so if you ended up throwing away the bottle you'll be a bit out of luck. Here's the address to return your bottles of Force Factor 2:
In the United States: Force Factor, 105 Commerce Dr, Aston, PA 19014.
In Australia: Force Factor, PO Box 535, Braeside VIC 3195.
In Canada: Force Factor Returns, P.O.Box 1051, Fort Erie ON L2A 6C7.
In the United Kingdom: Force Factor Returns, PO Box 1417, Bedfordshire, MK41 0QB.
Recommendation
Would I recommend Force Factor 2 for the effectiveness and the results? The answer to that is a stern YES. It will definitely help you achieve your dream of a leaner, more muscular body, and is one of the best supplements I've used to date. You can pick up a bottle of Force Factor 2 at your local GNC, or order it conveniently online on their official website www.forcefactor.com/products/factor_2
It's a bit on the pricy side, but worth every penny in my opinion.
Have You Used Force Factor 2? Leave Your Review Below!
Top 3 Pre WorkoutAffiliate Disclosure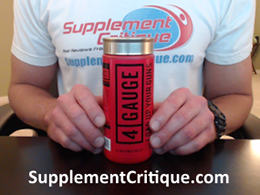 4 Gauge is a brand new pre workout that kicks in FAST and will rev up your workouts.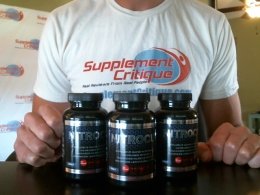 Nitrocut is a VERY effective pre workout supplement for a variety of reasons, see why here.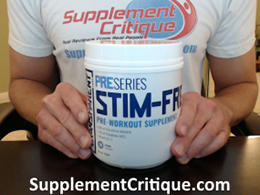 If you're looking for a stim-free pre workout, add Transparent stim-free to your list!
5 Star User Reviews

4.0 out of 5 Stars (1 Reviews)
Have you used this supplement?
There Are no 5 Star User Reviews
Want To Really Get Ripped?

Click Here To Download My FREE
Ask A Question
User Questions and Answers
---

how to take it? before the workout or after the work out -Gaurav basnet

According to the box, on workout days you're supposed to take 2 – 4 capsules with breakfast and 2-4 capsules 30 minutes prior to working out.  On non-workout days you take 2-4 capsules with breakfast and then 2-4 capsules with lunch.- Rob
Was this question helpful to you?
1 out of 1 people found this question helpful.
ASK A NEW QUESTION
---

Can i take 4 pills before work out instead of taking it with breakfast because i work out in the morning -Rick norm

That should be fine. You just want to try to keep your timing as consistent as possible.- Rob
Was this question helpful to you?
0 out of 1 people found this question helpful.
ASK A NEW QUESTION