Prime Male Testosterone Booster Review
By:
Rob Miller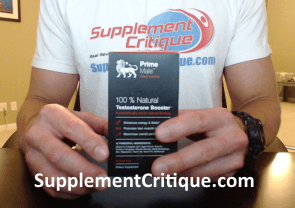 Contents
What is Prime Male
How Does Prime Male Work
My Personal Results
What's The Difference Between Testofuel and Prime Male
Recommendation
Note:This is just a review. Click Here to visit the official Prime Male website.
Any guy in his mid-to-late 40's or early 50's knows the symptoms…decreased energy, lack of libido, poor sleep quality. They can all be attributed to a lack of testosterone production, which starts its 1% per year decline right around the age of 30. Sure there are prescription remedies for the problem, but they often are simply a "band aid" type fix for an otherwise annoying problem.
Quick Tip: Are you under the age of 40? Then check out a supplement called Testofuel.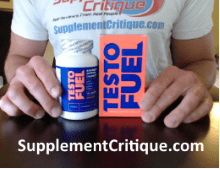 It's specifically geared towards men aged 40 and under, and will give you MUCH better results than Prime Male.
Click Here to read my full Testofuel review.
Recently, there has been a surge of so called "testosterone boosting supplements" that have been introduced to the supplement market, and many of these products claim to help fight this decline in testosterone and help you live a better life. One such supplement we recently got a chance to review is called Prime Male, which was just released not too long ago.
But what makes this supplement so special, and more importantly, does it really work? Read more in our detailed and comprehensive review to learn more.
Click Here to jump to my personal results, or watch the video review below.
What is Prime Male?
Made up entirely of all natural ingredients, Prime Male promises to deliver a host of benefits including enhanced energy and libido, gains in lean muscle, and an overall improvement in performance.
While it contains many of the same ingredients in Testofuel, Prime Male adds a number of all natural extracts that Testofuel doesn't have. The complete ingredient list includes:
Mucuna Pruriens has actually been studied for its effects on helping men with Parkinsons disease, but has also been shown effective at helping anxiety.
Because Nettle Root Extract contains 3,4-divanillyltetrahydrofuran, bodybuilders have been using it to help boost free testosterone levels by occupying the sex hormone binding globulin. (1) The final ingredient, Bioperine, has been studied for it's properties at allowing the nutrients and vitamins in Prime Male.
The nice thing about Prime Male is that it doesn't contain any harmful stimulants like Yohimbe, so you wont see a drastic increase in energy, followed by a huge crash later in the day.
Click Here to visit the official Prime Male website
So How Does Prime Male Work?
The primary ingredient, D-Aspartic Acid (DAA), as well as the addition of 100 mg of Magnesium and Luteolin is what truly gives you the most benefit here. DAA is a NON-essential amino acid that is generally made by our own bodies if we consume enough ESSENTIAL amino acids. In a clinical study conducted on mammals at the University of Naples, there was evidence that DAA reacts within the brain to release luteinizing hormone, or LH. LH passes through the testicles and enters the Leydig cells, which is exactly where testosterone is produced.
That's a really cool story, right? But, what about in humans? Well, research has shown that by taking DAA for a period of 12 days can increase your free testosterone levels by as much as 40%. (2) Couple this with Magnesium (which helps to lower your sex hormone binding globulin count) and Luteolin (which inhibits the action of Aromatase, reducing the production of estrogen), and you have yourself a winning combination.
How Do I Take It?
According to the label, Prime Male is designed to be taken as part of a daily supplement regiment. The directions state that you should take 1 capsule, 4 times per day with food.

My Personal Results
As noted in the video review above, I actually didn't get a chance to take Prime Male out.
My testosterone levels are already higher then normal for a guy my age (34), so I didn't think it would be a good "test" if I tried it out.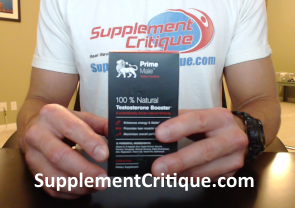 HOWEVER, I did have a friend of mine named John, who's 43, try it out and this is what he had to say in summary:
"I'm a 43 year old male who's been suffering from low testosterone since I was in my mid 30's.
I felt like I couldn't perform as well in the sack with my wife, and have definitely noticed my energy levels are not what they once were.
I started taking Prime Male and can say that I started feeling the effects almost immediately.
The first thing I noticed was that I was waking up with a morning wood, almost every morning,
Also, and I'm not sure if this was a result of the supplement or what, but I noticed my energy levels were picking up big time. I didn't feel as tired all the time, and seemed to have more energy / motivation to hit the gym.
The only side effect I noticed was that I had a little bit of stomach discomfort (likely from the magnesium in Prime Male), but it wasn't anything to the point where I felt like I had to stop taking it.
Thanks for letting me try this out, I highly recommend it to any guy my age looking to improve his performance, energy, and libido."

Click Here now to visit the official Prime Male website.
What's The Difference Between Testofuel and Prime Male?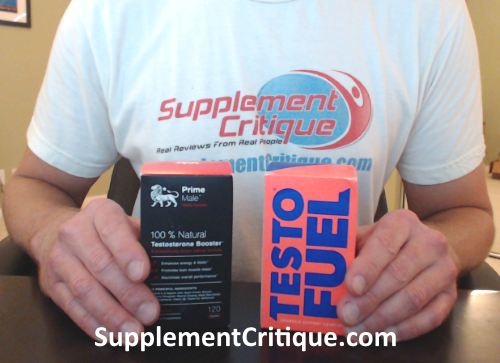 TestoFuelcontains a higher dose of DAA (2300mg), making it a more potent muscle builder and ideal for younger guys in their20's and early 30's that are already enjoying peak T levelsbut want to take their T levelseven higher& muscle buildingresults evenfurther, with the stimulation that a high dose ofDAA provides.
As you are probably already aware, testosteronelevels peakin the late teens to early twenties, and decline slowly thereafter.
Prime Malecontains less DAA (1800mg) but contains three additional ingredients; Mucuna Pruriens, Nettle Root Extract & BioPerine.

These additions are all designed to benefitthe slightly older guy(40+) whose T levels are naturally on the decline.

Here's how:
Mucuna Pruriens has been shown to reduce Prolactin levels in guys, which naturally rise with age,aiding thedecline in T.

Mucuna is also a potent T booster on its own, with studies showing around a 20% increase in T levels for guys with lower levels to start.
Nettle Root Extract has been shown in studies to bind with SHBG, freeing up more testosterone in the system.

SHBGincreases more and more with age, starting around the same time T starts declining.
BioPerine is a natural bioavailability enhancer.

It helps boost the absorption of PM's T-boosting nutrients.

Again, nutrient absorption declines with age, which is why healthcare professionals recommend higher doses ofsupplements to adults thanthey do tokids & teens, for example.
In summary: The additional ingredients in Prime Male are unnecessary in Testofuel.

And vice-versa.
What About Prime Male Vs. Testosterone Max
Testosterone Max uses a completely different, albeit very effective, formula then Prime Male. Instead of using D-Aspartic Acid, Zinc, or Oyster extract, Testosterone Max uses DHEA, a powerful hormone that acts as a precursor to the development of testosterone.
DHEA is actually produced naturally in the male adrenal glands. However, just like testosterone, it has a tendency to peak in your mid-20's and start a gradual decline as you get older.
This is where Testosterone Max thrives…
By supplementing with Testosterone Max, your body should (in theory and in practice) start to increase your bodies own natural testosterone production.
It also uses other powerful ingredients such as L-Carnitine, Vitamin E, and Tribulus Terrestris to amplify the effects. Other benefits include increased energy levels, weight loss, and improved sex drive.
I've personally used Testosterone Max with some VERY good results. Click Here to read more in my official review.
Where Can I Buy It?
At the time of this review, the Prime Male testosterone booster is only available on their official website, www.primemale.com. A one month supply will run you $69, but if you order a 3 month supply they give you a free box, plus free shipping. Since the supplement is backed by a 90 day money back guarantee, there is no risk to ordering a larger quantity. I actually recommend that you order at least a 2 months supply, as it generally takes a couple of months to see the best results anyway.
Will It Flag A Drug Test?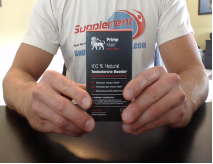 I get this question alot, so I figured I'd include it here. I have thoroughly researched ALL of the ingredients in Prime Male and cross checked them with my resources at the NCAA and FDA, and NONE of them are on the banned list. That said, many will ask if they will trigger a false positive on a drug test.
There is always a small chance that too much of any ingredient may flag a blood test, so I recommend that if you are routinely tested or that worried about it that you bring the bottle to the testing agencies office with you and explain that you've been taking it.
But I would say with 99% certainty that you will NOT be flagged for a false positive on a drug test.
Recommendation
If you're a guy in his 40's, 50's, or even 60's and you're looking for something to help not only get your libido back, but also increase energy, strength, and endurance, Prime Male just might be the supplement for you. While it is a bit on the expensive side, my research has shown that this testosterone boosting supplement has all of the necessary ingredients to help you get your mojo back.
References:

1.) Urtica Dioica:
Wikipedia.org

2.) The Effects of Aspartic Acid:
LiveStrong.com
Top 3 Testosterone BoostersAffiliate Disclosure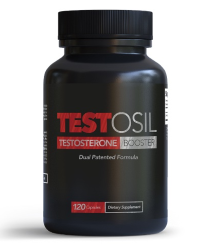 Testosil is the most effective testosterone boosting supplement on the market that I've tested.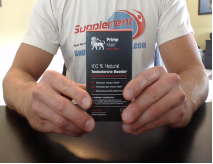 Prime Male is another very effective testosterone booster that uses clinically proven ingredients.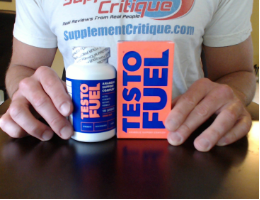 Testofuel is a VERY popular testosterone booster that contains ingredients to help older men.
All User Reviews

3.8 out of 5 Stars (9 Reviews)
Have you used this supplement?
By
George C.

,
Jun 6, 2017
Ive tried both of your recommendations, ie Prime Male and Testofuel.

For me it was hard to tell the difference, but I will say this. They both worked great! I experienced a big boost in energy, I am sleeping better, and my libido is on the up.

I think I'm gonna stick with the Testofuel because it's a little bit cheaper.

Thanks for recommending it, cheers from Australia!

Was this review helpful to you?
20 out of 21 people found this review helpful.
---
Long story short, I'm a 53 years young recently divorced guy looking to get back my libido.

I was diagnosed with low t about 6 years ago and tried using Androgel for a couple of months.

It worked great when I was using it, but the side effects made it less than stellar. I was researching my options and came across your review of prime male, Rob.

I decided to give it a shot and I'm really glad I did! Like the other guy said this stuff is amazing, my libido is great and I have alot more energy now.

Thanks for recommending it!

Was this review helpful to you?
63 out of 67 people found this review helpful.
---
Jose's Review
My English is not very well. I tried Prime male for not yet 30 days and I feel the different. I am going to 51 years old the next month and my libido is increasing a lot. I can't say nothing yet about the muscle or power but about the sexuality yes! it started working on me after 15 or 20 days of drink the pill. I am going to try testo fuel that I ready order. I will let you know Rob. The Prime Male increased my libido. For how long I will see.

Was this review helpful to you?
36 out of 39 people found this review helpful.
---
I was unsure as to whether or not to go with the Testofuel or this so I decided on this and I'm happy I did.

I feel like I'm 25 years old again, sex drive is through the roof and I have a ton of energy.

Was this review helpful to you?
36 out of 40 people found this review helpful.
---
Libido
This stuff has made me a monster in the bedroom.

I actually originally wanted to use Prime Male for just boosting my energy back and maybe gain some muscle.

I haven't seen any effect on strength or anything, but I get raging hardons now.

I feel like I'm 19 again!

Was this review helpful to you?
33 out of 34 people found this review helpful.
---
PRIME MALE
Prime Male did give me a noticeable improvement. I was not 'wowed' by it and am giving Testofuel a 1-month run now. If Testofuel doesn't seem better, will go back to Prime Male. Like I said, it did give noticeable results, just want to see what your 'top choice' can do for me before picking a brand to stay with.

Was this review helpful to you?
13 out of 15 people found this review helpful.
---
Stay away
I recently purchased Prime Male and had a bad experience. I purchased one bottle to try and see if it was worth it. While taking it as instructed, which is four times a day, I had severe chest pains and absolutely zero benefits. I did not experience any increase in energy, motivation, or any other of the positive results this company claims that their product will provide. I took a few days off of it and tried it again with the same results.

Furthermore, I contacted Prime Male to see about a refund. I was told they only refund unopened bottles. I asked how I can try a product without opening the bottle. Does Prime Male not stand behind your product when it causes medical complications? They simply reiterated that they cannot take back an opened bottle and left me with $70 worth of pills that causes chest pains.

I highly recommend staying away from this product and this company. They do not stand behind their products.

Was this review helpful to you?
9 out of 9 people found this review helpful.
---
Mark's Review
I tried Nugenix several years ago when it was first out from a GNC store. I used it for about 6 months, it really didn"t help me that much and did cause stomach problems like bad heartburn. I mean the kind that crawls up your throat like acid reflux. After this I searched the Internet about Nugenix and found this website which lead me to purchase Prime Male and later Instant Knockout.

This is probably the best that I"ve felt energy-wise, libido-wise and just overall mood wise since I was in my early forties. I've used Instant Knockout usually during the winter months so I don't pack on weight during less active months. It seems to help me keep from having massive hunger boughts which lead to overeating. Both of these supplements are a little pricey, but compared to pharmaceutical costs and the cost of not being active, overweight and low libido these 2 supplements are actually like money in the bank.

My results are just that, my results. Yours might differ, but for me, my later 50's are definitely better for me because of these two supplements. After taking Prime Male for about 7 months and getting in a more active physical state, I've had morning wood since then and this hasn't happened since my early forties. These pills by themselves aren't some miracle fix, but definitely give you the best shot in helping you get back in shape at an older age.

They've been a real blessing in my life, and my wife has enjoyed my renewed interest in her, which was causing problems because I didn't have any energy or sexual desire at all. Good luck to you older guys like me who are looking for help/bump start to feeling alive again, having energy and strength that you thought were history in our older age. If you take these supplements as directed and get off your rear-end and follow Rob's free helpful books. Your older age won't feel so old!

At our age, always see your doctor before starting these supplements and exercising. When you start exercising don't go overboard and start out small and work your way up. If you try to do too much to soon you might get injured! Be safe, be smart and good luck.

FYI, Prime Male is so popular these days their actually out of stock in the US right now. This has happened several times since I've been taking it. That's why once I figured out that I was taking it for years to come I started buying a years supply at a time otherwise I'd be out right now.

In case anyone was wondering if I cycle it, yes I cycle the Prime Male 8 weeks on 1 week off after taking it for 90 days continuous the first time that I used it. Several of my friends around my current age I've recommended this to. Now take this and are happy with the boost it gave them in jump-starting them being more active. Getting more active is the key to a longer life and feeling better as you live it!

Was this review helpful to you?
4 out of 5 people found this review helpful.
---
I got nothing....
I just finished my 1st bottle of this and can honestly say that I haven't noticed any type of difference at all. There were a few days when I wasn't able to take all 4 capsules, but I don't think that would make a difference. I tried really hard to stick to the 4 a day, but it's hard when it's been 30 days and you feel nothing. Maybe I'm doing something wrong. If so somebody please tell me! I am 59 years old, 5'8" and about 165. I don't need to lose much. Just want to get rid of this small tire I've grown, get my T levels back up and feel like I have some energy.

Was this review helpful to you?
3 out of 3 people found this review helpful.
---
Click Here To Visit The Official Prime Male Website

www.PrimeMale.com
Ask A Question
User Questions and Answers
---

What do you have as a testo booster for guys in their eighties? -Bob

Go with Prime Male. It won't get you back to where you were in your twenties, but you'll definitely see improvements from where you are now.- Rob
Was this question helpful to you?
42 out of 43 people found this question helpful.
ASK A NEW QUESTION
---

Is it strictly only one pill at a time or could I do two twice a day Prime Male? -Thomas

I've found that 2 twice a day works just fine, and is much more convenient.- Rob
Was this question helpful to you?
20 out of 22 people found this question helpful.
ASK A NEW QUESTION
---

Do you think Prime Male can be dosed twice a day rather than 4x? -Brian

It may work. Give it a try. I often start a new supplement at half dose to assess tolerance, and find that the effects are perfectly acceptable.- Rob
Was this question helpful to you?
18 out of 18 people found this question helpful.
ASK A NEW QUESTION
---

I am 42 years old and have been working out for a year now and have made some great gains. I have been considering a testosterone booster to further these gains. My testosterone levels are good but I find that I'm low on energy. I question how you can give a review on Prime Male without using it? I'm conflicted ongoing with Testofuel or Prime Male. -Rob

I've used Testofuel personally, and I've gotten great results.  And I'm not a guy with low testosterone levels. Because of that, I had someone else test Prime Male for me. He felt the libido boost, the muscle growth, and the energy.  I think you'd do best with Testofuel.- Rob
Was this question helpful to you?
20 out of 24 people found this question helpful.
ASK A NEW QUESTION
---

Can I still take Prime Male even if I have colds and flu and drinking Paracetamol and Vitamin C?. -Bobby

It shouldn't be a problem- Rob
Was this question helpful to you?
11 out of 12 people found this question helpful.
ASK A NEW QUESTION