NO2 Maximus Review – Does It Really Work?
By:
Rob Miller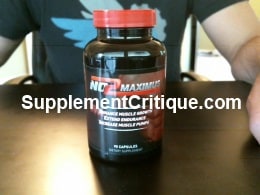 Enhanced muscle growth, extended endurance, and increased muscle pumps. What guy wouldn't want that?? Those statements are all on the front label of a supplement I recently tried out called NO2 Maximus. Distributed by a company called NetMarkets LLC, this once a day all natural formula promises a host of other benefits from taking their product. But does it really work? I ordered and personally tested a one month supply of it, check out my review below.
What Is NO2 Maximus?
Finding information on the company that produces this supplement was tough. It looks like their fulfillment center is located in Lewiston, ME, but that center only ships out the products, they don't actually own the brand. I ran a quick search for the trademark and copyright, and came up short as well. Hiding the details of your business is not a good start, especially if your telling people you are a #1 pre workout supplement.
Based on the principle of Nitric Oxide production, NO2 Maximus uses 3 all natural ingredients to help men achieve a more developed physique, quickly and easily. The 3 ingredients are L-Arginine HCL, L-Arginine AKG, and Citrulline Malate, as well as some other filler ingredients. The key ingredient we've identified here is L-Arginine, which had a study conducted on it over 20 years ago. In that study, L-Arginine was shown to help increase blood flow throughout the body by widening the blood vessels through increase nitric oxide production.
You'll find L-Arginine in several hundred other supplements, including pre-workout boosters, male enhancement supplements, and even testosterone boosters.
FAQ's About NO2 Maximus
What are the ingredients?
The main ingredients are L-Arginine HCL, L-Arginine AKG, and Citrulline Malate. Click here to see a photo of the label.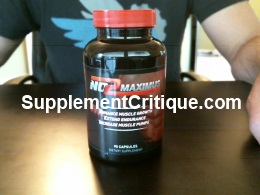 Do they sell it in GNC or other stores?
As of this review, it doesn't appear to be sold in stores. That being said, pre-workout supplements like this one pop up in stores like GNC and Walmart all the time, so it's best to consult with your local retailer directly.
Is it available overseas?
It appears that NO2 Maximus is only for sale in the US, New Zealand, Australia, and the UK.
Does it have any side effects?
Since it only has 3 ingredients, the chance for side effects is low, but possible. Some of the side effects from L-Arginine (the primary ingredient) are hyperkalemia and lowered blood pressure in some individuals. (source: 1) So if you're taking any medications that might lower your blood pressure, I would definitely suggest you speak with your physician prior to taking it.
Does it really work?
While every individual will respond differently to supplements like this, I didn't see any massive improvements. Additionally I looked through some yahoo answers posts, and none of them had anything positive to say about it. Click here to see my personal results and side effects.
Should I stack it with any other supplements?
There is some talk about taking NO2 Maximus with other supplements like Amino Prime, Optimal Stack, Alpha Jack3d, and XMR, but I haven't seen any evidence that stacking them will give you enhanced results. On top of this, these supposed "Miracle Stacks celebrities use" are often just a ruse to get you to sign up for their free trial, which ends up billing you an INSANE amount 14 days after ordering (see below).
What Do The Reviews Say?
I poured over a few different forums looking for a real review of NO2 Maximus but came up short. It seems like most of the talk floating around is about whether or not this stuff works, rather than people raving about it like their official website says. To me, this only lends to the notion that this supplement really isn't credible, because if it was there would be tons of guys talking about it in gyms and such.
Fake Doctor Testimonials
One thing I noticed was a particular review on Youtube from a "Doctor" who go's by the name of Dr. Knox. Check out the video below:
Sounds legit, right? Well, I did a little bit of research on this "Dr. Knox", and you won't believe what I found out. Check out the image below: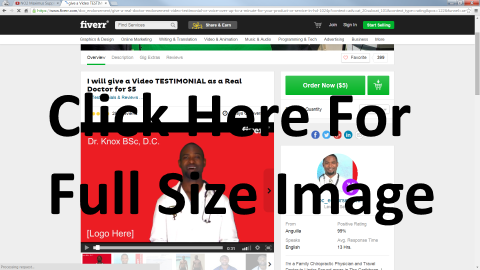 That's right guys, he's a PAID endorser advertising his services on a website called Fiverr. Fiverr is basically a website where people advertise various services, in exchange for $5.
Is he a doctor? According to his description and the research I've done, yes. However, you really can't take his endorsement with anything more then a grain of salt, given the likelihood that's he's probably NEVER tested it out, much less prescribed it to his patients.
Another thing I did find was one supposed "review" of NO2 Maximus on youtube, check it out below:
http://youtu.be/KNnWcwM0cj0
However, what's interesting to note is that this guy is a paid reviewer who is endorsing this product for a price. How do I know this??? Check out the image below…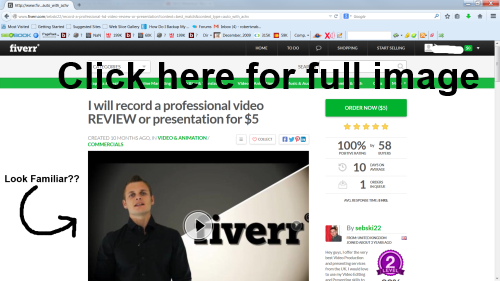 The website Fiverr.com has literally HUNDREDS of men and women who are willing to make a "fake" review of just about anything, including supplements. It's obvious this guy was paid to proclaim this supplement as one of the best out there, but what's funny is he did it for the low price of $5! Talk about selling out!
Is NO2 Maximus a scam?
This is a tricky one. While not outright a scam, the billing procedure of the free trial is somewhat of a nightmare. They start off by billing you a low price of only $4.95, but after a period of 14 days your credit card is charged the ridiculous price of $89.91, and they continually bill you for the product and keep sending it to you every 30 days thereafter until you cancel. On top of that, should you decide to cancel you need to return the unused portion to them, and YOU are responsible for the return shipping.
If you scroll to the comments section on this page you will literally see DOZENS of complaints from guys who fell for this scam, often when it was far too late. I talk about this deceptive billing procedure in many of my other reviews as well.
My Results With NO2 Maximus
Knowing that I would be charged if I didn't cancel my trial of NO2 Maximus, I made sure that I set a reminder on my calendar 10 days out to remind me. It took about 4 days for me to get the supplement, and just like they promised it was delivered discreetly (not like I really even cared about that).
As stated earlier, it's a once a day formula which involves taking 3 capsules once a day. There is no indication as to when to take it, so I figured it might be best to take in the morning on an empty stomach. I gotta say I did notice a bit of an increase in the amount of weights I was lifting for the first week, but after that there wasn't else much going on. I didn't get massive pumps, extended endurance, or any kind of crazy results from it. I'm also still a little bit on the hefty side, so I was hoping that I would start to see my abs popping back out. But nonetheless, this didn't happen. I would show you before and after photo's, but there really was no difference whatsoever.
Luckily I didn't experience any negative side effects from it, but that's not to say you will not. There is an inherent risk with taking any supplement, and it's best to consult with your physician to better evaluate whether or not it's safe for you to take. My guess is, if they wanted to make a better performing formula, there gonna have to add some other ingredients into the mix, like a stimulant or testosterone booster.
I did also want to note that when I called to cancel my trial they didn't try to pressure me into keeping it. I just told them that I wasn't seeing the results I was looking for and that I would try something else. My credit card was not billed and I didn't have to send it back, so that was a plus as well.
Looking To

REALLY

Get Ripped?
Click Here to download my FREE "How To Get Ripped Quickly" eBook!!
My Video Review
3 HUGE Reasons You Shouldn't Buy It
They use FAKE testimonials from supposed "Drs." and others.
I personally used it and didn't feel anything.
They use deceptive advertising to "trick" you into buying it.
Recommendation
There's nothing here screaming out to me that NO2 Maximus will give you the results that any Men's Health article will tell you. There's also no evidence that Gerard Butler, Ryan Reynolds, or any other celebrity have used this supplement (or any combination thereof like stacking it with Muscle Rev X) to get ready for some big movie, despite the claims. In addition, the ingredients like L-Arginine can be bought on the cheap from your local vitamin shoppe or Rite Aid, and it would probably do the same exact thing NO2 Maximus does.
Couple this with the fact that their free trial is really just a lure to get your credit card charged $90 in 2 weeks, and were gonna say pass on this one. In my opinion there are a ton of more effective supplements on the market that will give you much better results, without emptying your wallet in the process.
Luckily, their website also offers the ability to buy it without enrolling in their free trial, but at a price of $119.99 plus $5.95 for shipping, it is probably one of the most ridiculously overpriced supplements I think I have ever come across. If you REALLY think you want to order it, I would recommend you check eBay or Amazon and see if you can get it cheaper.
Have You Used NO2 Maximus? Leave Your Review Below!
Sources:
Arginine Safety – http://www.mayoclinic.org/drugs-supplements/arginine/safety/hrb-20058733
Top 3 Pre WorkoutAffiliate Disclosure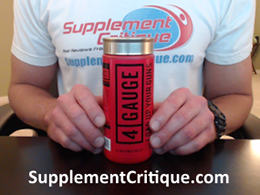 4 Gauge is a brand new pre workout that kicks in FAST and will rev up your workouts.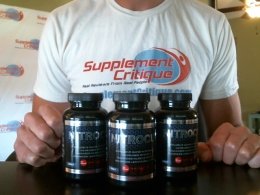 Nitrocut is a VERY effective pre workout supplement for a variety of reasons, see why here.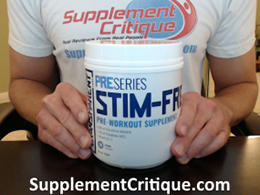 If you're looking for a stim-free pre workout, add Transparent stim-free to your list!
User Reviews

1.0 out of 5 Stars (5 Reviews)
Have you used this supplement?
Total Scam
Not only is the article true, but you will also get lots and lots of spam at the address you place in the order form! What a scam!

Was this review helpful to you?
40 out of 44 people found this review helpful.
---
scam scam!!!
Total scam, product did nothing and they charge you an extra 200 dollars without constant...I'm pissed

Was this review helpful to you?
32 out of 33 people found this review helpful.
---
Steven garner's Review
By
Steven garner

,
Aug 26, 2016
Yer, they tried to con me with there tricks. I have cancelled my order and any membership attached to it. I have also cancelled my credit card with my bank. This is a scam without a doubt.

Was this review helpful to you?
9 out of 10 people found this review helpful.
---
Martin's Review
This shit is crap and they rip you off with your cash. DO NOT PURCHASE !!!

Was this review helpful to you?
8 out of 9 people found this review helpful.
---
Scott's Review
This product did nothing for me still charged me 94.00 dollars do not order it's a scam

Was this review helpful to you?
8 out of 10 people found this review helpful.
---
Want To Really Get Ripped?

Click Here To Download My FREE "Get Ripped" Ebook!
Ask A Question
User Questions and Answers
---

Help I signed up for free trial about a month ago I don't want to get charged again I live in New Zealand what do I do I tried calling in just said person im trying to call is not available? Please any help would be good really worried after reading reviews calling it a scam. -Simon

The New Zealand number I have for them is +61 2 8015 2154.  If you've tried that and it doesn't work, check your credit card or bank statement. There should be a number there. If not, tell your credit card or bank that you don't want to accept any more charges from this company.- Rob
Was this question helpful to you?
8 out of 9 people found this question helpful.
ASK A NEW QUESTION
---

How can I get a phone number to speak to someone about my order? ? -Rickey

Their website lists their customer service numbers as: USA Customers Call: 1-888-478-0415, UK & Ireland Customers Call: +44(0) 20 3608 4832, Australia & New Zealand Customers Call: +61 2 8015 2154, South Africa Customers Call: +27 21 300 2968.- Rob
Was this question helpful to you?
7 out of 9 people found this question helpful.
ASK A NEW QUESTION
---

How important is it to take the pre workout on an empty stomach? -Lance

It's really a matter of personal preference, and finding the right balance. Taking it on an empty stomach is good for blood flow, but you don't want to be so empty that you end up dizzy or lightheaded while you're lifting. I suggest you eat about 1-1 1/2 hours before working out and take your pre workout about half an hour before.- Rob
Was this question helpful to you?
4 out of 6 people found this question helpful.
ASK A NEW QUESTION
---

I was charged for no2 gain pro and never got the product. Also one other that was charged and no show now I'm out lil over $70 and no way to contact them that I found yet. Very upset -Christopher

Check your credit card statement. There should be a contact number listed with the transactions. If not, contact your credit card company. They usually have a valid contact number you can use.- Rob
Was this question helpful to you?
1 out of 1 people found this question helpful.
ASK A NEW QUESTION
---

What are the ingredients in No2 Maximus please -Houssam

The active ingredients are L-Arginine HCL, L-Arginine Alpha Keto Glutarate, and Citrulline Malate.- Rob
Was this question helpful to you?
1 out of 1 people found this question helpful.
ASK A NEW QUESTION