Synapsyl Review – Should You Use It?
By:
Rob Miller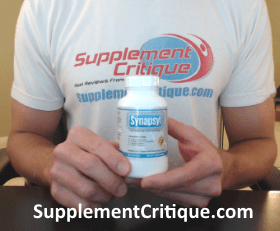 If you've been visiting our website lately, you may have noticed we've been reviewing a lot of brain boosting supplements.

Otherwise known as nootropics, these natural supplements are sometimes referred to as legal adderall. So which is it?

Are they brain boosters or are they ADD/ADHD alternatives?

And more importantly, will they help you get what you're reaching for?

Read on, and we'll address all of those issues.
Many people have been making the jump to nootropics over recent years whether it is because they personally cannot gain access to prescription alternatives such as Ritalin or Adderall, or because they are just trying to avoid some of the negative consequences and habit forming nature that many of those drugs are known for.
Synapsyl is the name of the brain booster we're talking about today.

It's fairly new to the scene, but that's true of a lot of its competitors as well.

This market is exploding these days, so realistically, I expect to see a lot more newcomers in the coming months.
Contents
What is Synapsyl?
What are Nootropics?
Ingredients in Synapsyl
Potential Side Effects
Consumer Reviews and Testimonials
Where To Buy
My Personal Results
Pros and Cons
Conclusion / Recommendation
Watch My Video or Read More Below
[youtube https://www.youtube.com/watch?v=GWNqHMnxjC4]
What Is Synapsyl?
Synapsyl wants you to think of it as Viagra for the brain.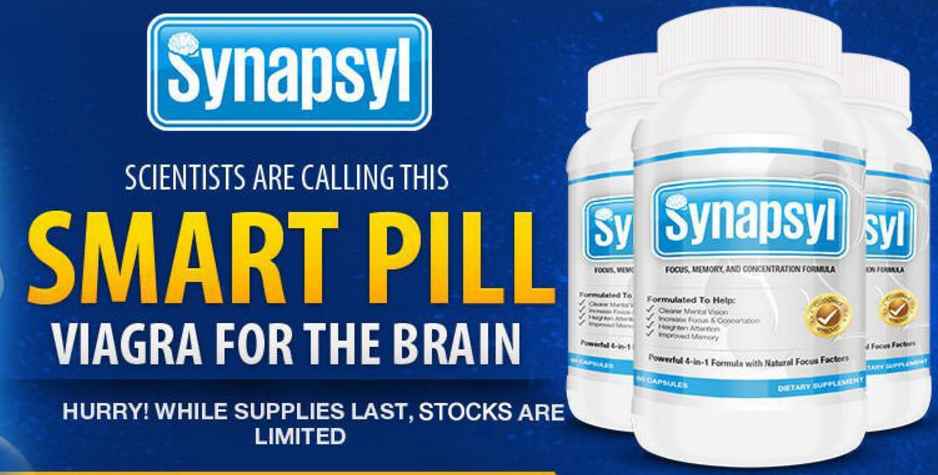 Just like taking Viagra makes your penis stand at attention and function at its best, that's what Synapsyl does for your brain.
There's a host of other supplements that make this "Viagra for the brain" claim, including Brain plus iq, Adderin, and Cogniflex, and MOST of the time they turn out to be far from it.
When you take Synapsyl, you'll find yourself able to:
Learn new concepts faster.
Work smarter so you're getting more done in less time.
Concentrate harder so you can see all the possible solutions available to you.
Remember more fully so you can recall information you need when you need it.
Remain calm even in anxiety-causing situations.
The key to Synapsyl's success is its use of nootropics, which we'll explain below.

What Are Nootropics?
You may know them by another name, but you're probably at least somewhat familiar with the concept.

Also known as Smart Drugs, Memory Enhancers, and Cognitive Enhancers, nootropics are basically supplements that improve your mental functioning in one way or another.

They may improve your memory, your concentration, your attention, your focus.

Or they may improve some combination of those.
Learn more about What Nootropics are in our in-depth article here.
Currently, several nootropics are being researched and clinically tested to prove or disprove their effectiveness in certain situations.

A lot of them are involved in the fight against Alzheimer's Disease and other age related cognitive decline.

There are still a lot of unanswered questions about how effective they are, and which combinations may be most effective.
There are two ways to go when choosing what to use.

Some people obtain the individual substances in powder form, to make their own stacks.

Others, most in fact, choose to go with something pre-made, hoping the right combination was put together for them.

Synapsyl a ready made supplement that claims it has found that right combination.

Synapsyl Ingredients
Let's talk about what's in Synapsyl.

Their website doesn't provide a complete ingredient list, but they do cover the highlights, which include:
Phosphatidylserine which has been shown to help people score higher on intelligence tests and improve overall cognitive performance.
Omega-3 Complex which can help lessen anxiety by increasing positive thought patterns, as well as protect neurons in the brain from oxidative damage caused by free radicals.
Bacopa Monnieri which was shown by theCenter for Human Psychopharmacology in 2012 toimprove cognition in three ways: It acts as an antioxidant to protect cells from free radical damage.

It increases the flow of blood throughout the brain to provide oxygen and nutrients.

And it regulates the release of serotonin, which regulates for a more positive mood.
Phosphatidylcholine which helps the brain to metabolize Acetylcholine, one of the key neurotransmitters connected to the ability to retain new information.

By providing an abundant source of choline, your brain can be assured of making increased acetylcholine for better functioning.
These are basically the primary ingredients in Synapsyl, but here's a quick look at their label: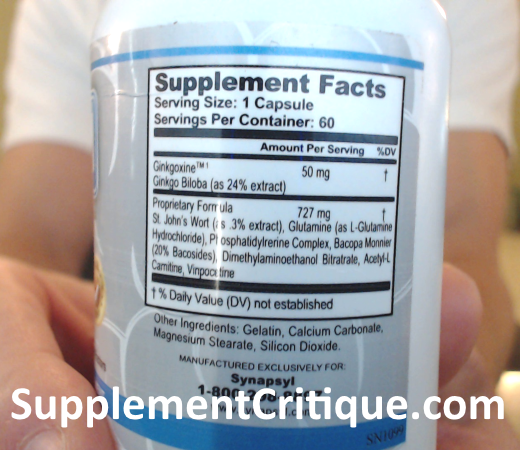 Synapsyl Side Effects
The known ingredients in Synapsyl are generally well tolerated, but with any supplement, you'll encounter a slight risk of side effects.

The Phosphatidylserine has the potential to cause an upset stomach and sleeplessness, and the Phosphatidylcholine may also cause upset stomach.
On the label they actually point out the side effects of St. Johns Wort, one of the other primary ingredients.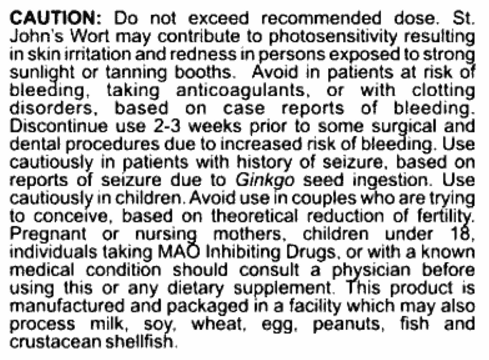 I can definitely attest to this, as I've gotten some really bad sunburns down here in south Florida while taking St. Johns Wort.

Synapsyl Reviews
There's quite a bit of online buzz about Synapsyl being generated by "review websites".

These sites are set up like they're offering unbiased reviews, but if you look more closely, you'll see that most of them don't review anything other than Synapsyl.
That's because they're really just advertisements trying to get you to click through and place an order.
One example would be this one, which shows up when you search for Synapsyl reviews in Google just below our review: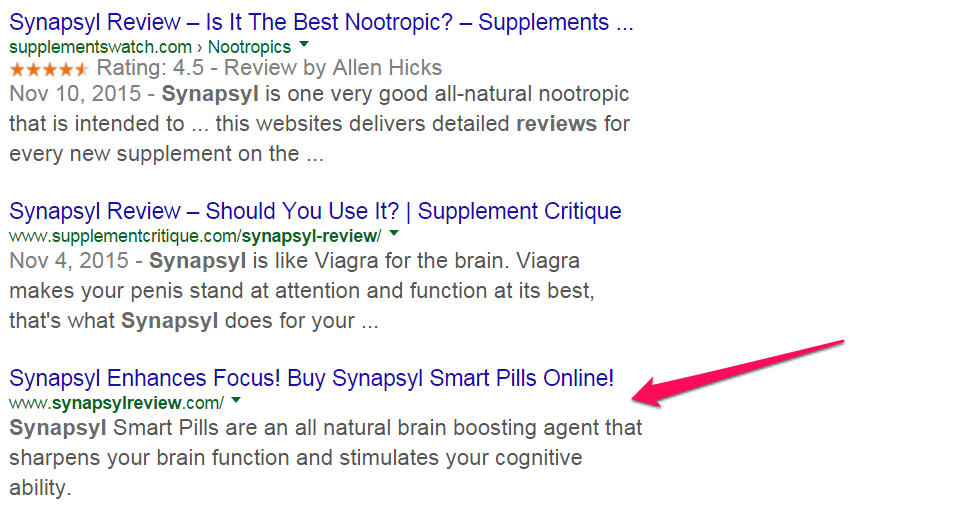 First off, who starts a website with the name synapsyl review dot com???
I would say probably someone with the intent of selling the product in the name of their website 🙂
Second, if you click on their link and read the last paragraph of their "review", it doesn't even really make sense.
Of course just below that there's a link to buy it. The rest of their review is a mix of gibberish that was clearly written by someone who doesn't write English as their first language.
It's just advertising, nothing too sinister, but it's good to be aware of what you're dealing with.
Unbiased reviews from customers who've actually used Synapsyl are harder to come by.

I dug pretty hard and came up with just a few.

Unfortunately, the news isn't good:
Robert says, "Synapsyl does absolutely nothing that it claims to do."
R.A says, "It is a scam.

It will cause nausea"
Ted jokes that, "I'm sure I have tried this, but I just can't recall if it really worked." (He gave Synapsyl only 2 stars.)
Most of these reviews (which appear to be unbiased) are on Highya.com, but there is also some anecdotal reports on Reddit as well.

Where to Buy Synapsyl
From what I can tell, Synapsyl is only available online on their website www.Synapsyl.com.
I searched through Amazon, eBay, and even my local GNC, Walmart, Walgreens and CVS and no one else seems to carry it.
The good news is that there's no "free trial" scam to worry about and there is a 30 day money back guarantee.

I made sure to read the entire Terms and Conditions document just to be certain I wasn't missing anything.

At this time, any purchase you make from the Synapsyl website is a one time purchase with no recurring charges.
For a single bottle (a one month supply), you'll pay $49.95 plus shipping.For 3 bottles, you'll pay $119.91 ($39.97 per bottle) with free shipping.And for 5 bottles, you'll pay a total of $149.85 with free shipping, which works out to $29.797 per bottle.

My Personal Results With Synapsyl
At the request of one of my visitors, I ordered a bottle of Synapsyl to try out first hand. The one thing I liked was that they didn't have a free trial option.
While a free trial seems nice in theory, what ends up happening is they will charge your credit card a hefty amount 2 weeks later.
A lot of supplements like Max Synapse, Cogniq, and others do this, which often leave a bad taste in peoples mouths.
Synapsyl doesn't do this.
They only offer the ability to buy it outright, which I talked about above.
Based on the reviews I read in the past, I wasn't expecting much out of this one, but figured I'd give it its day in court.
The directions state that you should take 1 capsule twice daily with meals, so the first pill I took in the morning shortly before breakfast.
I took it with literally nothing else, apart from a cup of coffee.
The official Synapsyl website promises sky-rocketing concentration, improved creative thinking, and enhanced memory recall.
I waited and waited to start feeling these effects, but really didn't feel anything.
Ignoring the suggestions on the bottle, I took a second capsule about 3 hours later and again, waited.
Nothing happened.
There was no surge in productivity or mood. No lessening of any anxiety (although I'm not really anxious to begin with). No sudden moments of clarity.
I would liken my results to the same that I experienced with another supplement called Geniux.
I decided to take it for another couple of days, thinking maybe it would gradually take effect. But I can say with 100% honesty that I didn't feel practically anything from it.
Which is also to say that I didn't seem to get any side effects from Synapsyl either.
In short, it basically didn't do anything.

Synapsyl Pros and Cons
Advantages of Synapsyl
The ingredients are all natural.
There is some scientific research backing up the claims Synapsyl makes about its ingredients.
There's a money back guarantee and no free trial scam.
It can be comparatively inexpensive, especially if you buy several bottles at once.
Disadvantages of Synapsyl
The only unbiased reviews we found were abysmal.
Conclusion
The website it informative.The formula appears to be well researched. The price is reasonable. What's not to like?

Unfortunately, that rosy picture doesn't account for the fact that the only real customer feedback says Synapsyl just doesn't work.

The most realistic explanation for the poor performance is that the formula just doesn't get the amounts and balance of ingredients right.
The real limitless pill? I personally don't think so.
In fact, compared to the several dozen other Nootropics supplements I've personally tested, I would definitely rank Synapsyl in the lower 3rd. I can reluctantly say that you shouldn't waste your time with this one.

Have You Used Synapsyl?

Leave Your Review Below!

Top 3 NootropicsAffiliate Disclosure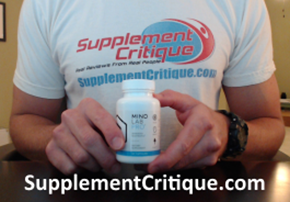 Mind Lab Pro is a VERY effective nootropic for focus, concentration, short / long term memory, and more.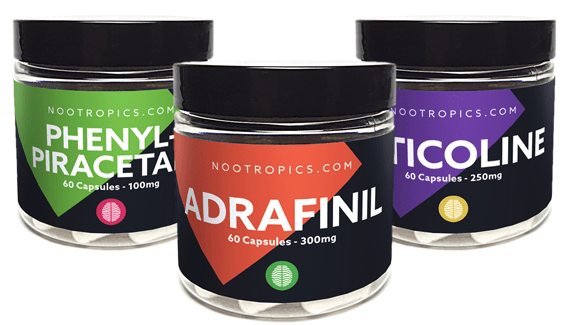 The Ultimate Nootropics Stack by Nootropics.com is one of the most effective stacks I've taken.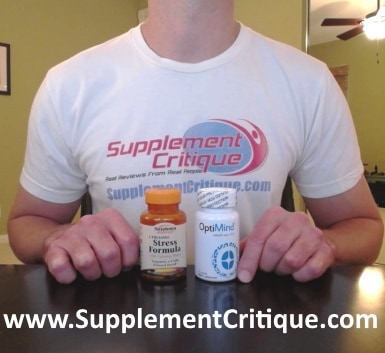 The combo of L-Theanine and Caffeine is a well known nootropic stack that really works.
4 Star User Reviews

2.0 out of 5 Stars (9 Reviews)
Have you used this supplement?
There Are no 4 Star User Reviews
Want To See What SupplementsWork Like Adderall?

Click Here To Find Out!
Ask A Question
User Questions and Answers
---

Available in South Africa? Prize in ZAR? -Frans

They do ship to South Africa, but you'll have to check with the official website to see how much it costs in your local currency.- Rob
Was this question helpful to you?
26 out of 32 people found this question helpful.
ASK A NEW QUESTION
---

Is this the type of drug that once you start using it you should not stop or what? -Jaco

No, as a supplement, when you stop using it, you just return to baseline.- Rob
Was this question helpful to you?
10 out of 14 people found this question helpful.
ASK A NEW QUESTION
---

Im from the Philippines I ordered about 3 weeks ago but still It didnt arrive and I paid more that it said its price is. How can contact? -nak

You'll have to call them directly.  The contact numbers I found on their website are: USA: (800) 298-8897 UK: +44 1618504645 South Africa: +27 875507587- Rob
Was this question helpful to you?
10 out of 16 people found this question helpful.
ASK A NEW QUESTION
---

Pros and cons of taking Synapsel?? Pls can someone get back to me urgently,. ? I want to purchase a course but i read some negitive reviews, ? Upset stomach! Making u tired? Is this true? -Jake

It wasn't effective for me and I've seen lots of negative reviews too.  For my experience, read the review above.- Rob
Was this question helpful to you?
3 out of 3 people found this question helpful.
ASK A NEW QUESTION
---

Why, after taking Synapsyl for two months, have I not experienced anything. A total nonentity. -Brian

It didn't work for me either. This is a review website. If you read the review above, you'll see I had basically the same experience you did.- Rob
Was this question helpful to you?

ASK A NEW QUESTION