NOT Recommended
Date Published:
2013-11-08
It's no secret that guys across the country will do practically whatever it takes to get ripped and shredded, even dabbling in illegal drugs to get the body they want.  A recent blog post I saw on a supposed "men's health" site called Men's Life and Health reports that you don't need to revert to steroids to get massive, but instead, you can turn to 2 supplements celebrity's have been taking ripped, lean physiques.
What supplement stack could they possibly be talking about?  None other than Max Shred and Xtreme Antler, 2 over the counter supplements that apparently the companies of which are handing out free bottles of the stuff.  I mean, why would a company want to turn a profit when they can just hand the stuff out.  Well, you're about to thank me for saving you from the scam that these products turn out to be!
What is Max Shred and Xtreme Antler?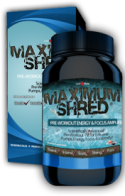 According to this blog post I'm reading, Max Shred (or Maximum Shred as it's referred to on their official site) is a all natural pre-workout supplement that is designed to get you stronger, bigger, and more cut.  It also apparently helps you gain more muscle from workouts, boosts your energy, burns fat, and gives you massive looking pumps, all within a few weeks!
We tried finding an official ingredients list, but there is nothing listed on the Max Shred website.  My guess is that it contains some sort of L-Arginine based on their descriptions, and maybe even a stimulant or 2.  It would be a little more helpful to determine whether or not there is the potential for side effects if we knew what the ingredients were, but i digress.
Xtreme Antler works very similarly according to their official site, boasting extreme gains in muscle growth, supercharging your sex drive, and improving memory and mental skills.  Just like Max Shred, the potential side effects from the ingredients in Xtreme Antler are not mentioned, but in this case I think it is safe to assume that probably the only ingredient in it is Deer Antler Velvet, or IGF-1.
Deer antler velvet is quite the controversial substance, and was actually used by Ray Lewis from the Baltimore Ravens to help recover from an injury prior to the superbowl. (source: 1)
The interesting thing to note about Deer Antler Velvet is that, while it's banned by major sports leagues, the NCAA, and High school athletics, it is NOT detected in urine tests.  The only way to see if your using it is by doing a blood test.
So Does Using Max Shred And Xtreme Antler Really Work?
Most likely not, at least not the way they say it will.  First off, the article you think your reading on a men's health article is really an advertisement.  How do I know this?  Because if I try to click on any of the links on their page, it directs me to an offer for either Max Shred or Extreme Antler.  Red flag #1.
Second, the page is littered with comments, which apparently were all posted today.  Of course all of the comments about Max Shred and Xtreme Antler are positive, with guys raving about it's effectiveness.  I tried to leave a comment, and wouldn't you know it, it's not going through.  It's not even taking me to a page that says the comment is awaiting moderation.  Red Flag #2.
Also, I noticed that there is no such magazine titled "Men's Life and Health"…Red Flag #3.  Finally, and this is the biggest issue, is the fact that the only way you can get these supplements is by signing up for a free trial.  "But what could be the problem with that??  I like free stuff!", you're probably saying right now.
Well, here's the thing…you're NOT actually getting a free sample of the product.  When you go to order, they ask for a credit card to help pay for shipping.  Sounds fair, until you undoubtedly miss the fine print stating that you can use the product for 14 days, after which they are going to charge you a collective $189 for "testing" out the products.
What's even worse is the fact that, if you don't cancel within those 14 days, they WILL continually send you the product and keep billing your credit card until you cancel.  This "deceptive marketing practice" has been used for years, and I have been seeing these miracle combo ads popping up all over the internet, especially social networks.
Some of these combo's include Blackline Elite and Refuel Extreme, and Nitro Shred and Alpha Fuel XT, just to name a few.
Lastly, Here is probably the only credible review I found from someone who has ACTUALLY used Extreme Antler and Maximum Shred, check out his review below:
In short, his experience can be summarized by the following statements:
It isn't working for me
I'm taking 5 capsules, while they say to take 3
It tastes like shit, similar to talcum powder
It's pathetic, it does NOT work
They sign you up for a subscription service (which I already mentioned above)
Xtreme Antler – The only thing I've noticed is that my hunger level has increased, but not in the day.  He says he wakes up at 2 am, completely starving.
Don't buy them, they're both a waste of money.
No a very flattering review, especially for a product claiming as much as it does.
Questions We've Received About Max Shred and Deer Antler
I was researching max shred and deer antler on the internet and came across your review. It's the only 'real' review of the products I could find, and I definitely won't be ordering them now, thanks to your review.
Aside from a post work-out shake are there any other real supplements on the market you would recommend for before or after a session at the gym?
Lee Gallagher, UK
Answer:  
Yeah there are tons of these supplement combos being advertised all over the internet.  I try to write about as many of these scams as possible but sometimes google decides to not rank them so well, so guys don't learn about these scams until its too late.
Anyways, as far as supplements go, I would suggest a pre-workout supp called Nitrocut, and a T booster called Testofuel.  They are both designed to start working in about a week, and will give you the best results.  Here are my reviews:
Nitrocut – http://www.supplementcritique.com/nitrocut-review-our-1-pre-workout-supplement
Testofuel – http://www.supplementcritique.com/my-personal-testo-fuel-review-and-results
Rob Miller, SupplementCritique.com
My Results With Max Shred and Extreme Antler
Since this particular post has received alot of traffic over the last few months, I thought it would only be fair to give Max Shred and Extreme Antler a try and see if it really works.  I ordered a 3 months supply of each and started taking it about 1 month ago, and I have to say I'm quite disappointed.
Not only did I NOT see any insane results / gains in muscle, I honestly felt sick after taking this stuff.  I didn't notice it for the first few days, but towards the end of the first week I started to feel like I was coming down with cold / flu like symptoms.  I was unsure as to whether or not the Maximum Shred and Deer Antler were the cause, so I just stopped taking it for about a week and within a few days started to feel normal again.
I restarted taking the supplements and, once again, that feeling of sickness started to return.  This convinced me wholeheartedly that the supplements must have been the cause.  After about 2 weeks of feeling like shit I had enough…I stopped taking them and trashed the rest.  No effects whatsoever.
My Recommendation
It's highly recommended that you don't order Max Shred and Xtreme Antler for the reasons listed above.  Is stacking supplements, specifically a pre-workout booster and deer antler spray, worth it?  Absolutely!  But, there are plenty of other products out there on the market that will leave you with better results, at a far cheaper price.
Some of you may be getting to this page a bit late, and have already ordered it.  My suggestion to you is to contact BOTH companies as quickly as possible to help avoid the headaches and financial strain that these 2 products will ultimately cause you.  If you need specific help just leave a comment below and I'll try to help you out in any way I can.
Have You Used Max Shred and Xtreme Antler?  Leave Your Review Below!
References:
1. http://www.usatoday.com/story/sports/nfl/2013/02/01/ray-lewis-mitch-ross-deer-antler-spray/1885081/
Check Out One Of My Top Pre / Post Workout Supplements – Crazy Mass
I've been researching pre and post workout products for years now, and recently came across a great combo of supplements called the Crazy Mass Cutting Stack. This stack combines 4 different supplements that are used in conjunction to provide great results.
I recently got a chance to test it out and post my feedback, click here to read my official review.
User Questions and Answers
User Questions and Answers
Q: I bought this for myself was wondering if females can take this or can you recommend something for woman. Thanks –Harry
A:
It's safe for women, but I don't recommend this kind of free trial product. You would do better with the
Crazy Mass Cutting Stac
k.
---
How People Found This Review:
and maximum shred, and Maximum Shred and Xtreme Antler, and maximum shred reviews, and Maximum Shred Scam, and maximum shred review, and xtreme antler
Click here to submit your review.
---
It's nothing to call home about
I started this stuff today and it seems alright I have a huge history on supplements for thE past 6 years and it's definetly no something to pay for you do a trial for a months the worth of daily and cancel immediately to avoid further fees whether it be your card or "membership" I'd say go for it just be smart. I feel what your really paying for is the little sheet of paper with a website reference and a workout regimen which is a plus. Do as far as he product goes it's alright the workout schedule I give an alright review I'm actually adding it to my insanity schedule just for laughs and I'm stacking he supplements on top of what I have already so for me it's no skin off my back.

---
Max Shred – Xtreme Antler
Started using Maximum Shred tonight for the first time. I took one pill (a third of a serving) before leaving for the gym. When I got to the gym, I felt sort of uneasy and had a little stomach discomfort. After beginning my workout, this discomfort subsided and I had a phenomenal workout. I realized that the supplement isn't so much of a muscle building supplement as much as just a different, intense preworkout. Definitely something that could be found at Vitamin Shoppe or GNC for a 10th of the cost. I enjoyed using the product and will most likely finish out the 30 day free trial, but will probably not continue to take this supplement. Most of my workout was stimulated by the fact that I was trying something new. Almost like a placebo effect. Granted, it did make me workout harder and made me want to workout harder… But, that was all in my head. Not worth $180 or however much they're scamming for this shit. In conclusion, any actual "gains" are and will be a result of anything but Maximum Shred. Definitely not what it claims to be.

---
Not bad
Although I felt disappointed that the free trial turned into an ongoing order; I managed to negotiate a 50% discount on the max shred. It has given me more strength in the gym – much like creatine, and I can lift more for longer. I don't think it is placebo and I was realistic about the products claims. After the gym I am looking more toned. Not worth the price at face value.

---
DISAPPOINTED IN ALL SENSE. SCAM!!!
The product caused dizziness and heart beating was very strong however my boyfriend didn't feel the effects of the product as expected. We live in Australia and the product took ages to arrive, after few days of arrival and because we did not see the results as reported on the website I called the customer service to cancel the membership and was not expecting to be charged for that. I put an order through on 10/10 and the product arrived at the end of the month almost at the end of the trial period. I called again the customer service and the attendant was rude and said she could not do anything for me as it passed the time to request a refund even though I requested a cancellation 2 months ago. This is really unfair and completely against the law in Australia. I have been trying samples from other companies and all trials start from the date of arrival of product!! SCAM.

---
seeing some results
So I've been taking this for about a month now and I think it is working not massive gains but on the other hand it could come down to the fact Ive been training a lot harder now I have something to motivate more. I rang and told them the shipment was late and they extended my actual trial period. and haven't been charged anything addional yet.

---
Trial
i have only been on it for 2 weeks and, the hunger is gone, i do feel hungry, but not like before, or is it just the will power, i do feel more energy and exercising goes a bit more now, but not sure if it is from the maximum shred or just my will power. I have seen my stomach shrink and 1 bump of the 6 pack on my upper stomach abs, but two weeks is just not long enough for an honest result. And lost a big of weight. Will post after 4 weeks, i have extended the package to another 30 days.? You need to apply exercise to see some sort of result i guess.

---
another scam
I got both cause I was doing the gym 4-5 times a week trying to lose some weight. I got the sense it was a scam but went for it anyway. Once I got my order I started taking the shred before the gym, but it just made me feel sick to my stomach. I'd get home do a protein shake and the antler. I looked a bit closer and realized they were going to charge my card, so I called my bank and had my cc canceled before they could. Stopped using it due to the feeling sick, and it kept me up at night even when I worked out first thing in the morning.

---
Alright just spoke with customer service i believe is named sarah trying to glue me to this purchase but I chose to cancel. They can't cancel the order or cancel the auto billing until two days after receiving it in the mail. And in order to successfully cancel you will have to return the products.

---
Cancel your cards
I recently ordered the Maximum Shred and Xtreme Antler combo. It was a sale that offered both for only the cost of shipping. The catch is if you do not call to cancel your trail membership they will charge you full listing price ($170 or so). And most people call to cancel and have to go through an hour phone call in which the sales rep try's to convince you to finish the tryout period. And then after the 14 day period they will charge you unless you call back the 2nd time. Easy way around this. Pay for the shipping, receive products, and call your bank and cancel the card. Your bank will gladly send you a replacement usually free of charge and you don't have to deal with the harassing sales reps. So I received both products for under $10.00 and about 30 minutes of my time all together. As for the actual product I think I will do some more research before using them.

---
They Got Me….
Hey, I was one of the victims to fall for the free trial sample. I got it in the mail and was prepared to start using both products, but I soon found out what happens when you read the fine lines. I got paid on the first and before I could do anything I realized there was $87 and $79 taken out of my account. Well they said if I wanted to cancel everything that I would also need to return both bottles empty or not. So all in all the all thing is a bad idea.

---
Want To Really Get Ripped?

Click Here To Download My FREE "Get Ripped" Ebook!
Sign Up For Our FREE 41 Page Ebook
"How To Get Lean, Ripped, and Strong Quickly"
Includes Three
Free

Bonuses ($23 Value):
Free

"Big List Of Foods You Can Eat" Quick Reference Sheet

Free

Get Ripped Workout Log

Free

Sample Meal Plans

Sign Up For Our FREE 41 Page Ebook
"How To Get Lean, Ripped, and Strong Quickly"